Student Analytics Principles
Student analytics provide The Ohio State University community with insights to understand and optimize student success and experiences. 
Student analytics are the measurement, collection, analysis and reporting of information about students and their contexts, for the purpose of understanding and optimizing student success and experiences and the contexts in which they occur.  We use student analytics to inform decisions made by humans, especially when there is a significant impact on students. 
However, students are individuals and cannot be wholly defined by the information collected about them.  While analytics holds powerful potential for benefits to both students and the institution, the possibility exists for unintended consequences. As a result, potential benefits from the use of student analytics in any given context must be thoughtfully considered in light of potential harms, particularly unintended ones. 
The Institutional Data Policy guides the security, data governance, and privacy of student analytics. 
Student Success 
Students are empowered to make their own decisions, and we strive to provide guidance through the use of analytics.  Student analytics also support the university's values and mission.  Student analytics must first work for the student and their success.  
 
Respect 
Student analytics must respect the dignity of each student.  The university thoughtfully considers contextual integrity when using personal information for student analytics. The university values student privacy and only uses personal identifiers when it is necessary or would be used to support a specific, individual student.  
 
Transparency 
Student analytics must be transparent. The university provides transparent privacy notices and communications about the use of student analytics.  Students should have a clear understanding of how their analytics data is collected, used, analyzed, shared, and reported.  
 
Accountability 
Student analytics must follow accountability and governance processes. The university is committed to ensuring equity, security, privacy, and quality by continuously evaluating the impact of student analytics.  The university also implements organizational policies, processes, and technical measures to address concerns and mitigate harm, particularly unintended ones.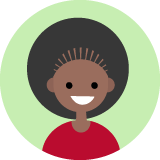 The Digital Footprint of a Student
A day in the life of Maria

Maria arrives on campus, pulls out her phone, which automatically connects to the university's wireless network, and opens the university app. She checks for the closest café to grab breakfast and orders from her app, paying from her university account.
---


Walking to the café, she begins a group chat with classmates from her first class. They discuss the difficulty of the homework and their opinions of the instructor's teaching style.
---


When she arrives at the café she scans her university ID to pick up her breakfast and heads to class.
 
---
After class, she heads to the library with her classmates. She opens her university's learning management system (LMS) to complete her assignments: annotating a chapter in her digital textbook, finishing an online worksheet, and completing a math assignment. When finished, she submits her work to her instructors via the LMS.
---


Later in the day, Maria heads to the university's rec center, gets a locker and checks in to her fitness class – all with her university ID.
---


At the end of the day, Maria syncs her favorite health tracker with the university wellness app and reviews the badges that she's earned for her exercising and sleeping habits.

Last updated: January 21, 2022