Employee Spotlight
June 2023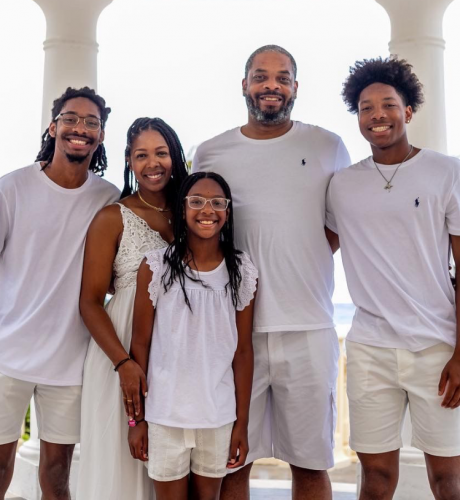 Product Manager, Web and Mobile
This month we're shining the spotlight on Portia LaMarr. She started her Ohio State career in the Registrar's office but then made her way to the Web and Mobile team in OTDI. She loves working with a creative and innovative team and has a passion for DEIJ work. This mother of three doesn't have many hobbies of her own, besides supporting all of her children's activities! When she's off the clock, you can listen to her on the H.E.A.R.D podcast (Higher Education and Real Diversity).
Q: What is your role at the university? Product Manager, Web and Mobile
Q: How long have you worked at Ohio State? 4 years – 3 in the Registrar's Office, 1 with Office of Technology and Digital Innovation (OTDI)
Q: What are you currently working on? Rebuilding the Admission Review app
Q: What do you like best about your job? Because I am new to this position, I really like absorbing all the new knowledge about my role, creating partnerships that learn and grow throughout a project and observing my team be so creative and innovative!
Q: Did you always know this is what you wanted to do as a career? Not at all! Most of my career I had the goal of becoming a Registrar, but this role fits me better!
Q. How did your career path bring you to work for us? Working on the Workday Student project, I was able to gain skills that landed me in this role.
Q: What was your very first job? Lifeguard
Q: Where did you go to college? Tennessee State University, Nashville TN an Historically Black College/University (HBCU)
Q: Where are you from originally? Cincinnati, Ohio
Q: Can you tell us about your family? My husband, Kiev, and I have two sons, Kaden (21), Kielan (18) (my bonus sons) and a daughter Parker (11). Kaden is a faith lead young adult and a great big brother. He attends Ohio State on a full academic scholarship and will graduate Spring '24. Kielan has confidence that is out of this world with a kind heart that will help wherever needed. He is a student athlete (baseball) at Capital University. Parker is a renaissance child, she is good at anything she touches but her love now is soccer, softball, chess, and history.
Q. Do you have any hobbies? Hobbies, what is that? Between all the activities my kids are involved in I am not able to locate my hobbies currently… lol
Q. What kinds of things are you passionate about outside of work? I am passionate about personal growth and DEIJ work. I am currently a co-host for American Association of Collegiate Registrar and Admissions Officers' (AACRAO) Podcast - H.E.A.R.D. (Higher Education and Real Diversity.)
Q: Best concert you've ever been to? Beyonce – Formation Tour, I was close enough were I saw her see me see her.
Q: Favorite quote? "If you stay ready, you don't have to get ready" - Chi Chi DeVayne