Employee Spotlight
October 2023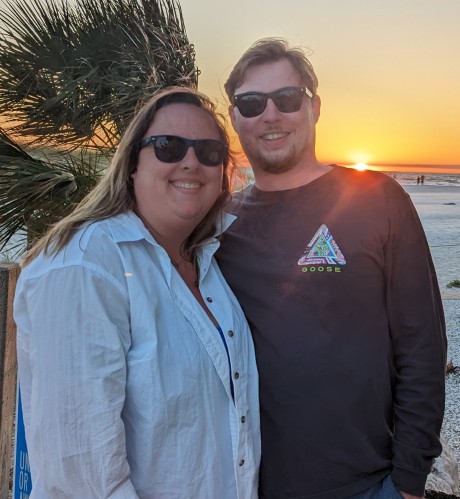 AV Installation and Support Specialist
This month, AV Installation and Support Specialist Phil Reynolds is in the spotlight. This former golf caddy and radio DJ wannabe found his calling in OTDI troubleshooting tech issues for instructors in classrooms across campus. He loves the work-life balance provided by Ohio State, as well as being able to provide a seamless experience for our customers—even during a global pandemic! If you are out and about in Columbus, you may catch him and his girlfriend at El Arepazo or Cuco's Taqueria, but if he's OOO, don't be surprised if he's jetting off to Thailand!
Q: What is your role at the university? I am an AV Installation and Support Specialist on the Learning and Collaborative Environments team.
Q: How long have you worked at Ohio State? I have been at the university in the same role for a nearly 5 years.
Q: Have you worked on any large projects since you've been here? I have worked on many large projects. Some of the most notable would be the projects my team and I did during COVID. We installed PTZ (pan, tilt, zoom) cameras for Zoom conferencing in 350+ classroom spaces. We also fit over 50 additional spaces with full AV systems in preparation for socially distanced classes for Autumn '20. Most recently, I lead the AV install for a complete renovation of the lecture hall in University Hall 14.
Q: What are you currently working on? What does a typical day look like for you? My typical day is spent troubleshooting and resolving incident records / calls for AV systems in classrooms. Outside of my day to day, I am currently working on building new instructor podiums for classroom upgrades over winter break. I am also working on re-organizing our workshop to make room for new equipment.
Q: What do you like best about your job? My favorite part of my job is the way we do all our work in house. Many other companies hire outside contractors to do AV work and then service and troubleshoot a system built by someone else. Since we do all the installation and service ourselves, it makes for higher quality support and a more seamless end user experience.
Q: Did you always know this is what you wanted to do as a career? I wanted to be a radio DJ and my first major in college was radio broadcasting. I did have a radio show my freshman year of college.
Q. How did your career path bring you to work for us? I was an AV Tech and assistant audio engineer for Ohio University while attending school. My first full time job out of college was working for a private AV Integrator doing installations. I had gained a lot of experience in most facets of the AV industry before finally coming to work for the university.
Q. Why did you choose to work at Ohio State? The work/life balance! I used to travel and work overtime a lot at my previous job.
Q. Of what are you most proud? At my last company I installed the video walls over the A and C concourse at CMH; I always get a big sense of accomplishment whenever I see those.
Q: What was your very first job? I was a golf caddy at Brookside Golf and Country Club
Q: Where did you go to college? Ohio University. Go Bobcats!
Q: Where are you from originally? I was born in Arizona and then moved to Columbus when I was six. I grew up in the Worthington area.
Q: What is your favorite place to visit? Probably either the Pacific Northwest or Ashville, NC. I frequent Athens, OH and Hocking Hills the most.
Q: If you could travel anywhere in the world, where would you go and why? Thailand, I absolutely love Thai cuisine and it seems like a very fun place to visit. My girlfriend and I always joke we're going to elope there.
Q: Can you tell us about your family? My girlfriend Kinsey is a pediatric nurse. We've been together for seven years and have a chocolate lab named Taco.
Q. What do you do for fun outside of work? I spend most of my time going to concerts and traveling. If I'm not doing that, I like to play golf on nice days and play guitar when I'm at home.
Q: Favorite place to eat in Columbus? El Arepazo is my go-to for date night. Cuco's Taqueria is another favorite.
Q: Best concert you've ever been to? Last October I got to see my favorite band King Gizzard and The Lizard Wizard play two nights at Red Rocks and it was an incredible experience. This past June, I saw them play inside a cave in Tennessee which was amazing as well. Next September I'll be at The Gorge in Washington which is another bucket list venue.
Q: It's 9 p.m. on a Saturday. What are you doing? Most likely out with my girlfriend and friends having some drinks or at a concert.