Get Tech Ready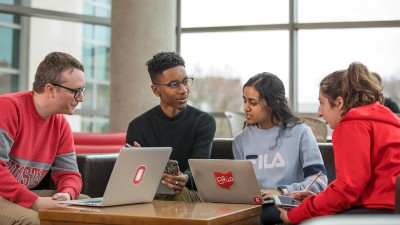 Be prepared for your coursework and find tech access options. 
What to Bring
We recommend that students have personal access to a device or combination of devices that enable them to communicate and take notes in virtual sessions, temporarily store files offline until they can be added to OneDrive cloud storage and use multiple applications simultaneously. Students taking required core biology, chemistry, and/or math courses (required courses in hundreds of undergraduate majors) will need a device that can engage in digital inking with a touch screen and stylus. The recommended singular device to meet all of these needs is a 2-in-1 laptop. A 2-in-1 laptop is a portable device with a keyboard and a touchscreen. TechHub offers a selection of Dell and Apple devices that support digital inking. 
Students should visit their college website for more information if they are in a program that may have more specific or elevated technology needs. Graduate and professional students should check with their college or program for technology needs. 
Minimum Recommendations  
Camera, microphone, keyboard, earbuds/headset  
256 GB hard drive storage (512 GB recommended)  
8 GB RAM (16 GB recommended)   
PC  

i5 processor, 12th gen, P series or better  
Touchscreen and stylus  

Mac  

M2 processor  
Additional device with touchscreen and stylus (i.e., iPad/digital pen)  
Department Specific Needs