Employee Spotlight
January 2023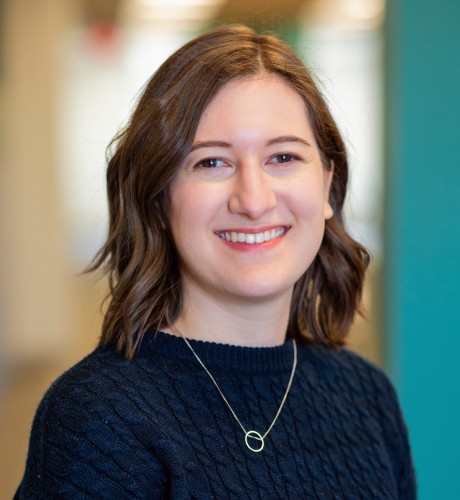 Communications Strategist
Meet Annie, this month's spotlight employee. She's a communicator focused on student success—everything from getting technology kits to students during a pandemic to supporting mental health with the Wellness app and fostering creativity with the Adobe suite. She originally wanted to be a vet, and then a journalist, now a communicator, but perhaps a florist in the future. This trivia pro loves learning new things, especially in the kitchen. When she's OOO, she may be jet-setting to Italy for handmade pasta or enjoying BIG family time.
Q: What is your role at the university? Communications Strategist
Q: How long have you worked at Ohio State? I just hit the three-year mark in September.
Q: Have you worked on any large projects since you've been here? My first year at Ohio State was definitely eventful. I worked on the launch of the Ohio State: Wellness app, helped with Keep Learning content when classes went online (just for a few weeks, we thought) and spent that summer sending a crazy number of emails to incoming students as we figured out how to get technology kits out to them safely. In 2022, I started focusing on awareness for the new student access to Adobe Creative Cloud and how to get students connected to all the tech resources OTDI offers.
Q: What do you like best about your job? I enjoy the problem-solving aspects and getting creative. The people I work with are also fantastic! They're always innovating, always ready to collaborate and always happy to support each other. There's a real focus on helping students access the resources they need to succeed.
Q: Did you always know this is what you wanted to do as a career? Communications wasn't really on my radar until after college. I started out pursuing journalism because I liked researching and writing – and I still get to do both in my current role. When I was younger, I wanted to be a vet, but now I think my dream job would be a florist. 
Q. Of what are you most proud? Being a top-tier trivia player.
Q: If you could travel anywhere in the world, where would you go and why? I'd head straight to Italy for some pasta. I'm talking about the kind that's still made the way someone's grandmother used to make it. 
Q: Can you tell us about your family? It's big. I'm one of seven siblings and the grandkids are starting to outnumber us. Family gatherings are chaos, but it's always a fun time.
Q. What kinds of things are you passionate about outside of work? I have a lot of fun baking, and I'm slowly building a collection of recipes that maybe one day I'll pass on as family secrets. I'll research a few recipes, and then try to put my own spin on them. Dinner parties are a great way to test the results out! I love to read or listen to anything that teaches me something new, especially about art, psychology, food, fashion or sustainability.
Q: Favorite quote?
Pay attention.
Be astonished.
Tell about it.
             -   Mary Oliver
Q: Do you have a favorite book or movie? Between new reads, I'll usually go back to Ray Bradbury or Terry Pratchett.