Employee Spotlight
November 2023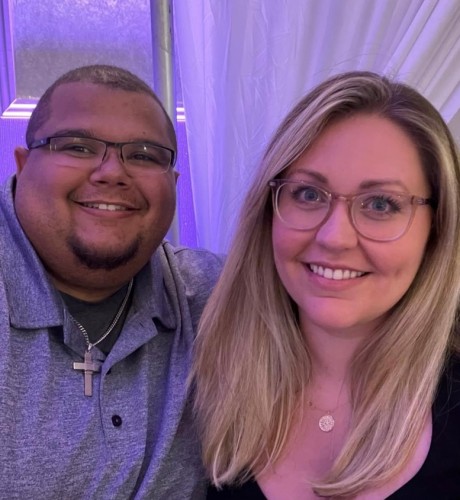 Applications Management Consultant
This month, the spotlight shines on Meghan Swisher, who leads the Enterprise Content Services team. She enjoys working with her colleagues in OTDI to update, improve and automate essential university tools. An architect and/or art professor wannabe, she ultimately built a career streamlining cumbersome business processes. She loves to travel, so if you catch her OOO message, she could be in Maine, Glacier National Park, or hopefully Scotland some day.
Q: What is your role at the university? I am an Applications Management Consultant and service owner leading the Enterprise Content Services team. Our services include Enterprise Document Management, eSignature, and Surveys.
Q: How long have you worked at Ohio State? 6 years
Q: Have you worked on any large projects since you've been here? One of the most notable projects was the AP automation solution implemented with OnBase and Brainware for Invoices. We were recently informed that Ohio State has the highest optical character recognition (OCR) success rate of Hyland's North American customers.
Q: What are you currently working on?  In addition to customer projects, our team is currently preparing to upgrade OnBase and Brainware over the next few months.
Q: What do you like best about your job? The people I get to collaborate with, the creative thinking required, and the impact our work has on our customers. OTDI has incredibly talented and truly interesting people and I count myself lucky to work alongside them.
Q: Did you always know this is what you wanted to do as a career? I wanted to be an architect or an art professor, so I pursued a Bachelor of Fine Arts degree in studio art in undergrad.
Q. How did your career path bring you to work for us? In my first full time job out of college, I worked my way through a court clerk's office, eventually becoming a supervisor. I found a niche developing solutions for cumbersome, manual business processes with limited resources and implemented several throughout the five years I worked at the court. I then joined Ohio State via Accounts Payable, who were searching for a supervisor focused on process improvement. I became an OnBase distributed administrator and throughout the Workday and Brainware projects, I worked closely with the Enterprise Document Management (EDM) team, officially joining OTDI in the fall of 2021.
Q. Why did you choose to work at Ohio State? I was in search of better work/life balance and opportunities for post-graduate education.
Q: What was your very first job? A summer job working on a digitization project for the police department out of D.C.
Q: Where did you go to college? Denison University
Q: Where are you from originally? I am from Delaware, Ohio, and after living for a few years in Dublin and New Albany, my husband and I moved back to Delaware to be closer to family.
Q: What is your favorite place to visit? Glacier National Park, hands down. The Blue Ridge Mountains are a close second.
Q: If you could travel anywhere in the world, where would you go and why? The list is long, but Scotland is near the top. I would love to visit Edinburgh and the highlands someday.
Q: Can you tell us about your family? My husband, Kyle, is a business analyst for a local health insurance company. We've been together for 11 years, married for 7 and have known each other since middle school. We have a three-year-old pit mix named Nyx.
Q. What do you do for fun outside of work? Do you have any hobbies? I enjoy traveling and spending time with my family. My husband and I are traveling to Maine this fall to visit Acadia National Park. Exploring new towns and local shops or galleries is one of my favorite things to do. My husband is the hobbyist, though I provide whatever technical or creative support he needs. For the last three years, his (our) main hobby is 3D printing.
Q: What is something most people might be surprised to know about you? I was a wedding and portrait photographer for about 10 years while working full time. Though it was fun, I'm excited to focus more on travel photography in the future.
Q: It's 9 p.m. on a Saturday. What are you doing? Either troubleshooting the 3D printer or relaxing with my husband and pup.