CFAES IT Transformation
The goal with this project is to ensure a robust IT strategy and approach to management, seek efficiencies, and do more in focused areas. Decisions will be made based on how to provide quality and efficient IT services to our faculty, staff, students and customers. This includes support for desktops, classrooms and research. In some of those areas, things will look different; however, we are focused on maintaining a level of service that will meet your needs moving forward. 
Project Progress
Current Phase: Onboarding
New units are being moved to OCIO services each month on the Columbus, Wooster, and State-wide campuses. Networking upgrades continue to be completed. The project team is surveying each unit about their overall experience as they move to OCIO services and adjusting methods based on that feedback. 
Read the November project update for specific unit and department information and the satisfaction survey results.
8/2020-10/2020- 

Entomology, Plant Pathology, OSUE Admin, Allen County, 

Champaign County, 

Clinton County, 

Defiance County, 

Fulton County, 

Guernsey County, 

Lake County, 

Licking 

County, 

Logan County, 

Miami County, 

Montgomery County, 

SE Regional Office, 

Union County, 

Washington County

4/2020 - 7/2020 - Erie County, Harrison County
3/2020 - ATI Hawk's Nest, 

Stark County, Crawford County, Columbus

-

Turf Grass, Huron County, Butler County

2/2020 - FABE, SENR, STAR Labs, 

4H Camp Palmer, Auglaize County, Williams County, Carroll County, Highland County, Marion County, North Central Ag Research, Ashland County, Scioto County, Warren County

1/2020 - FAHRP, FABE Wooster, 

Coshocton County, Medina

County

,

Jefferson County, Ottawa County,

Western Agricultural Research Center,

Paulding County, Mahoning County,

Wyandot County, Ashtabula Agricultural 

Research Center, Mercer County

12/2019 - 

Noble County

11/2019 - OSUE Pesticide Education, Belmont County, Preble County, Darke County, Richland County, Henry County, Eastern Agricultural Research Station
10/2019 - Athens County, Clark County, Gallia County, Holmes County, Ross County, Seneca County, Tuscarawas County, Van Wert County, Vinton County
9/2019 - OSUE FCS, OSUE Publications, Wooster Campus Facilities, Geauga County, Lorain County, Morrow County, Portage County, Putnam County, Shelby County
8/2019 - OARDC Plant Pathology, MCIC, Ashtabula County, Fayette County, Greene County, Morgan County, Pickaway County, Wayne County
7/2019 - Brown County, Lucas County, Wood County
6/2019 - Wooster Campus IT, Sandusky County, Muskingum County
5/2019 - Columbus Campus IT and 4-H, ATI ASB, ATI AET, Adams County, Jackson County, Pike County, Madison County
4/2019 - Hardin County, Summit County, Cuyahoga County, Hamilton County, Clermont County, Fairfield County, Advancement, ATI Student Success Services, ATI Horticulture, Upward Bound
3/2019 - Franklin County, Lawrence County, Perry County, Research and Graduate Education (Wooster and Columbus), ATI Admissions, ATI Academic Affairs, ATI Library, ATI Business Office
2/2019 - Hocking County, Marketing and Communications
1/2019 - Academic Programs, Human Resources, Finance (Wooster), Trumbull County, Columbiana County
12/2018 - Wooster DPS
11/13/18 - OBIC
10-11/2018 - Members of the Dean's Office and Finance department
9/26/18 - International Programs
9/13/18 - The Ohio Program
8/23/18 - Government Affairs, Facility Planning, and Diversity and Inclusion
8/16/18 - Hancock County
8/13/18 - ACEL
6/14/18 - Farm Science Review
Onboarding Units Migrated to OCIO Services
Updated 11/1/20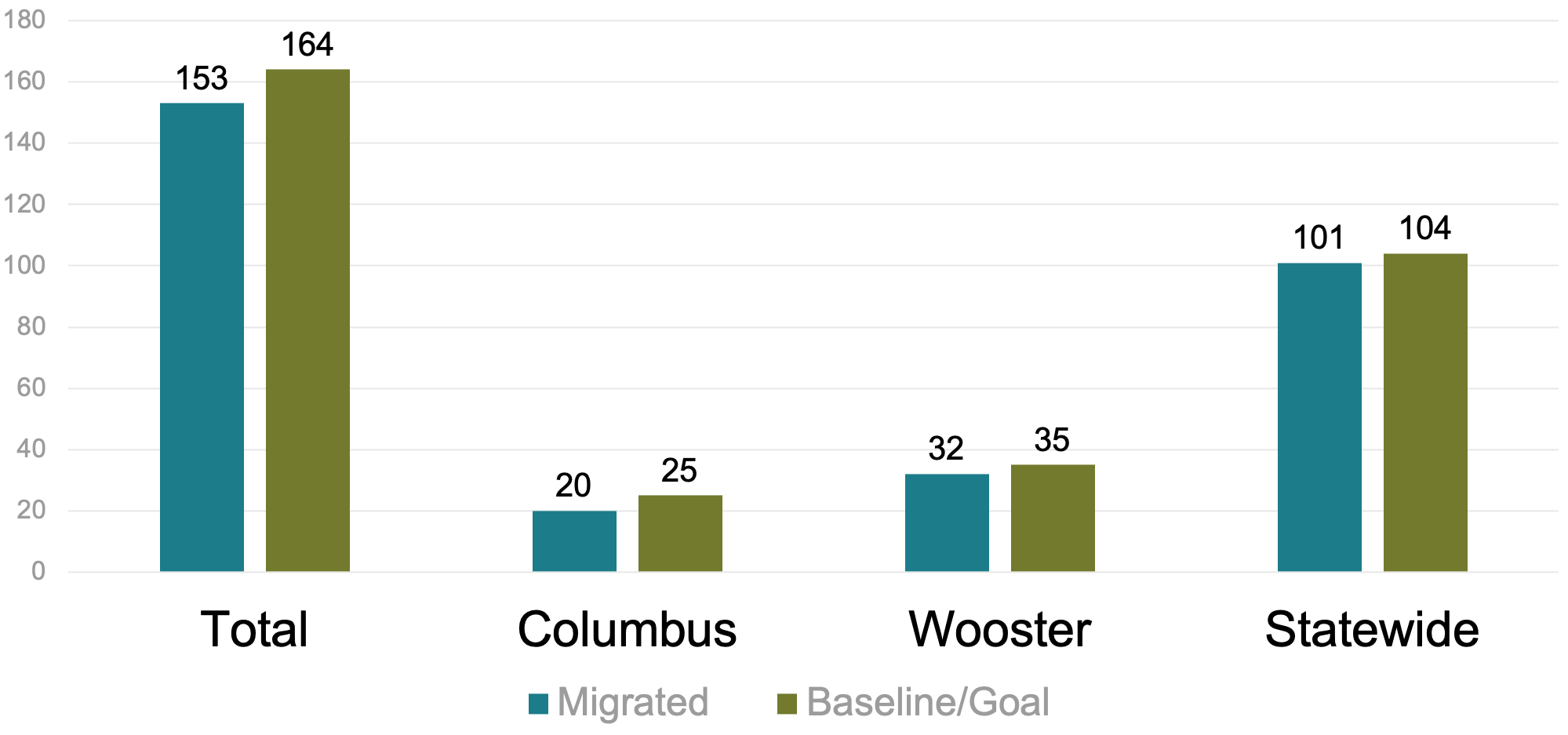 CFAES Buildings Migrated to OSUwireless
Updated 11/1/20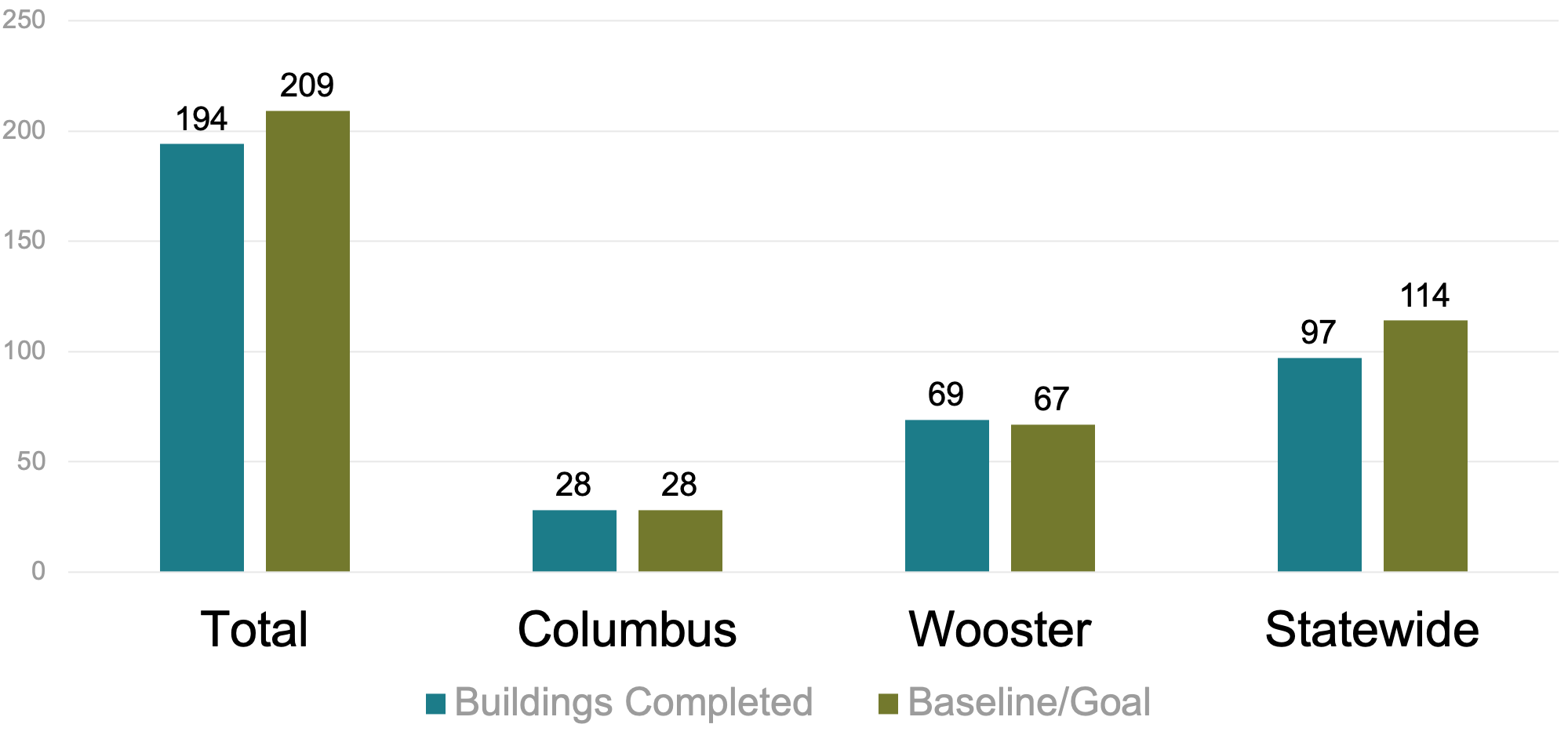 92.8% New Computers Deployed
3081 out of the 3320 total devices have been refreshed.
The college is now on a four year refresh cycle for all devices. A device is refreshed when a user receives a new computer.
Updated 8/1/20
78.7% Computers Migrated to OCIO Services
2613 out of the 3320 total devices have been migrated to OCIO Services.
A computer has been migrated to OCIO services when it has been moved to the OCIO's central Active Directory.
Updated 11/1/20
The Reasons Behind the Transformation
It's important to make sure the reasons behind this IT Transformation Project are clear. As we dig into various departments within the college, we recognize the uniqueness of each individual area. While specific benefits will vary by department, the overall reasons for such a major shift are consistent across the board.
Helping to enable the overall strategic vision of CFAES through IT that supports their unique research needs
CFAES is investing more in IT to help achieve the goals and initiatives of faculty and staff, and implement some suggestions made by IT staff
Increase overall security and decrease risk exposure
Basic network connectivity and increase bandwidth as needed
Provide consistent access to support for CFAES faculty, staff, and associates
Have a question about the project? Fill out our form.
Frequently Asked Questions
How do I purchase IT-related items?
As part of the agreement with OCIO, existing computers will be refreshed every four years. This refresh program will kick off in a few months. In the meantime, the purchasing of new computers is for individuals who have devices that are unusable to effectively do their job or for new employees.
There is a new standard process for purchasing computers and other technology equipment for all CFAES departments and units. This includes equipment purchased with grant funds.
If you need to purchase computers or other IT-related items, please contact the IT Service Desk. You can contact it through the following methods:
You should NOT submit an eRequest or purchase the equipment directly. The IT Service Desk team will work with you to determine specific requirements and find the best option. Based on the joint determination, the IT team will initiate the purchasing transaction. One exception in this process is for software that is available through the OCIO on the following website: http://ocio.osu.edu/software/directory(link is external). If you want a paid site licensed software that is available on the website, such as SigmaPlot or NVivo, you may request it directly from OCIO as before and pay through a regular eRequest. 
Please note that some items are NOT covered by the refresh program. Examples include iPads, software, and some services. The IT Service Desk will work with you to order these items. They will be paid for by your department/unit and billed to your chart fields.
I've been encouraged to use BuckeyeBox. What is it exactly? Are my files and data safe using BuckeyeBox?
BuckeyeBox is an easy way to store and share files and folders in the cloud. Box is accessible from anywhere, on any device and can be used to contain some Institutional Data classified as S4. For more information on BuckeyeBox, including links to overviews and training videos about the different features, visit http://ocio.osu.edu/KB05324.
A: Box adheres to the highest industry standards for security at every level and commits extensive resources to the design, implementation, monitoring, and maintenance of its security infrastructure, including:
Data encryption
Administrative auditing
Role-based access controls
Password and time-based file sharing
Backup/Replication/Disaster Recovery
Data center availability/physical security/environmental controls
Plus additional controls/protections
Additionally, all files are encrypted and stored on servers in the United States. Redundant encrypted copies of the files are stored as backups on servers at a different geographical location in the United States. Per the Internet2 NET+ contract with Box, data stored in Box, including user information, cannot be "data mined", nor may it be shared with any third party.
For more information about BuckeyeBox and security, including the types of data that can be saved, visit http://ocio.osu.edu/KB04620.
I have heard that existing computers are on a 4-year refresh cycle as part of this agreement. What does that mean?
A device "refresh" happens when aged equipment is replaced to reduce security risks and to comply with University policies. A 4-year refresh cycle means that as a part of this IT partnership, CFAES has committed to funding a rolling replacement of 4-year old workstations with new devices, ensuring the College has an updated, supported, consistent computing environment. The replacement computers will be paid for by OCIO using SLA funds from the College. As the time for replacement approaches, IT staff will work with you to confirm and identify the needs of your replacement system(s), prepare the new computers, and get them installed. 
Will there be on-site tech support?
Yes. There will also be locations for walk-in help from which we can dispatch desktop and classroom support in various locations.
All computers will be on a 4-year refresh cycle. Macs are fully supported.
How will we deal with public/non-name.# computing? 
We need to work together to see what you do, what partnerships you already have, and what partnerships we can bring. How can we simplify to make sure we aren't reinventing the wheel in each area? We also know that we need last mile connectivity. We think that through partnering with the State of Ohio we can leverage relationships to improve service. We hope that we can amplify each other's voices to improve service overall.
Project Leadership
CFAES 
Graham Cochran,

Associate Dean for Operations

Mike Chakerian, Director, Information Technology
Eric Bode, Senior Fiscal Officer 
OCIO 
Diane Dagefoerde, Deputy Chief Information Officer 
Bob Corbin, Senior Director, Infrastructure Services 
Jason Haskins, Director of MITS and Relationship Management
TRANSFORMATION TASK FORCE
Kris Boone, Director, Ohio State ATI 
Jim Metzger, Chair, Department of Horticulture and Crop Science 
Andy Michel, Interim Associate Chair, Department of Entomology 
Deana Namuth-Covert, Director, Online Education and Outreach 
Jeff Sharp, Director, School of Environment and Natural Resources 
Scott Shearer, Chair, Department of Food, Agricultural and Biological Engineering 
Jackie Wilkins, NE Ohio Regional Director, Ohio State University Extension
Kelly George, Assistant Professor
Get Help
Immediate Assistance
Call 614-514-4848 (IT4U).
For immediate assistance in the classroom, select option 1 from the menu.
---
Online Support
Visit Self Service to submit a ticket or order a service, or email us at servicedesk@osu.edu
If you are having IT issues and need assistance, you can click the large red "Need some help?" button that appears on the dashboard after you have logged in. You will see various categories to select from to report your issue. If your issue does not fall under one of those categories, just select "Other" and provide details about your request. You can also select "Get Help" from the menu on the left side of the screen and select to submit a ticket. A list of categories will appear to select from, including CFAES specific items.
For more information view the brief training module in BuckeyeLearn: Submitting a Ticket.
If you need to order a service, click the Order Services button in the menu on the left side. You can select from a wide range of service options. Common requests like event support, loaner devices, file share, and print share appear under the Client Computer Services menu.
Click the following link to view a brief training module on how to order services: Ordering Services.
---
In-person Support
Columbus Campus:
Kottman 260, Ag Admin 240
Wooster Campus:
Research Services 131
BuckeyeBar in ATI Library