Technology Updates for Autumn 2023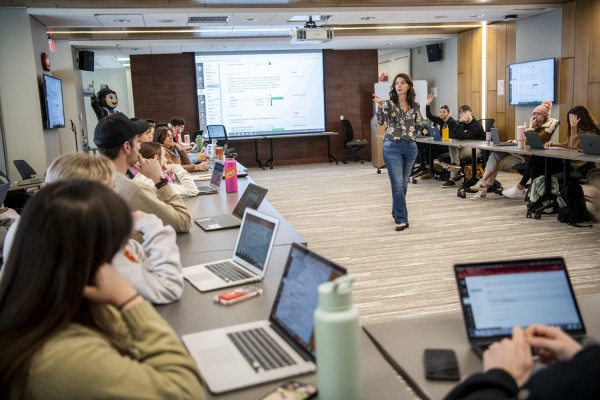 Technology is critical for instructors and students to have a successful semester. Whether your classes are in person or online, you rely on essential tools like CarmenCanvas, CarmenZoom, Wi-Fi and more. The Office of Technology and Digital Innovation (OTDI) works throughout the year to continually improve these tools and support efforts to bring new tools onboard at the university. Familiarize yourself with New Quizzes in Carmen, the latest accessibility features in Zoom, and new opportunities for your students, like C4U and the Student Technology Loan Program.
CarmenCanvas Updates
New Quizzes Update
The New Quizzes tool is available for instructors to explore and can be enabled on a course-by-course basis. If you'd like to take a peek at upcoming quiz features, you can enable New Quizzes in one of your forum courses. Activating this feature for your course will allow you to choose between Classic Quizzes and New Quizzes when creating a new assessment. In the Teaching and Learning Resource Center, you can view a release timeline and review accessibility considerations. You can also catch an upcoming info session hosted by the Educator Professional Learning team.  
Forum Courses on Demand
Need a forum course to test out New Quizzes? As an instructor, you are now able to create forum courses on demand from the Carmen landing page, rather than having to request them. Forum courses are helpful when you'd like to explore new features or experiment with course design outside of an academic course. Keep in mind, these courses will appear in the "other" filter on the landing page since they are not tied to a given semester or academic course.
Turnitin "External Tool" Retirement
The external tool option for Turnitin is no longer available for assignments in CarmenCanvas. Instead, instructors should use the Plagiarism Review option built into the Online Submission assignment type. Most instructors are already using Turnitin this way, which utilizes Canvas's built-in assignment options. If you are still using the external tool option, you should update your assignments by changing the Submission Type from External Tool to Online. Learn how to update your assignments in the Teaching and Learning Resource Center.
New Top Hat Integration
An updated version of the Top Hat integration has been added to CarmenCanvas, just in time for the autumn 2023 semester. This update provides more security and a richer feature set than the previous integration. Some of these additional features include a Top Hat course navigation menu item, automated roster and grade syncing, and the ability to deep link content. You can read more about these features in Top Hat's Quick Start Guide.  
Instructors are still able to use the previous integration, referred to as the Legacy LMS Sync, in Top Hat courses with an established connection to CarmenCanvas. If you want to start using the newer integration in your Top Hat course, you will need to unlink the Legacy version first.
Proctorio Access in New Browsers
The online proctoring tool Proctorio was previously only available in the Google Chrome browser, but the vendor has since added more supported browsers. Proctorio is now available in any Chromium-based browser, such as Microsoft Edge, Brave and Opera.  
Modules from University Libraries
Explore University Libraries' collection of Carmen modules that can be shared with you so you can utilize them in your courses. Resources can be used as-is or adapted to fit your context and are intended to teach your students essentials on topics such as source evaluation or advanced searching.
PebblePad ePortfolio Tool
PebblePad is the ePortfolio tool that Ohio State selected to support the new General Education (GE) program. Its use is required in the GE Bookends courses. The Honors and Scholars programs are also taking advantage of this new tool to fulfill their ePortfolio requirements. Many students have already been introduced to PebblePad and are encouraged to engage with it beyond these opportunities.  
All Ohio State faculty, staff and students have access to PebblePad to create personal, professional and academic portfolios. If students in your course have questions about this tool, they can learn more in the Teaching and Learning Resource Center or at eportfolio.osu.edu.
Add a PebblePad Link in Your Course
If you would like to support your students in their use of PebblePad, you can activate a link to the tool in the sidebar navigation for your course. You can learn how to manage navigation links in the Instructure Community. Enabling the PebblePad link in your sidebar will make it easier for students to find the tool so they can complete or tag assignments in PebblePad.  
PebblePad Workshop
Are you considering incorporating PebblePad into your own course but not sure where to start? Attend Leveraging ePortfolios in Your Course with PebblePad this October. In this session, the Educator Professional Learning team and partners in the Office of Student Academic Excellence will share research on the effectiveness of ePortfolios, discuss how ePortfolios are currently being used across the university, and share examples of digital portfolios created using a variety of Ohio State-approved technology tools, including PebblePad.
PebblePad Accessibility Considerations
Also, please review this important accessibility information and be sure to share with your students if you are using the tool in your course. As the instructor, you should be prepared with accessible backup assignments, and you should let your students know how they can get assistance if they need it.
CarmenZoom Updates
Accessibility Features
You are likely aware that CarmenZoom offers automated transcriptions of meetings, but did you know you and your students could download those transcripts? Zoom also recognizes over 20 languages and allows meeting hosts to designate spoken and sign language interpreters. Learn more about these features and see if they could be beneficial to you and your students. Keep in mind, while they are helpful, they do not make your Zoom meetings ADA compliant. You should still consult Student Life Disability Services (SLDS) for the best options for your courses or Ohio State's ADA office for all other accessibility concerns.
Zoom Updated Terms of Use
You may have noticed that Zoom recently updated their terms of service to include language around AI and machine learning algorithms. Rest assured that these features are not currently part of our university-wide CarmenZoom account. Zoom has not released these features to any of their educational customers, and even when they do, they will be disabled until the university decides whether to use them or not. Additionally, our terms of service are set by the Master Services Agreement, the contract the university signed when we purchased the tool. Zoom cannot change these terms without our knowledge and consent.
Tech Access Assistance
As part of the Buckeye Technology Equity Commitment, Ohio State offers loaner devices on a semester-by-semester basis. Students can request to borrow a device with digital inking capabilities through the Student Technology Loan Program (STLP). The STLP offers Surface Go and iPad Air technology kits, and most loans can be renewed at the end of each semester. Learn more and request a device.
Update on Adobe Access for Students
Instructors, please remind your students that they still have free access to the Adobe Creative Cloud suite of tools for the '23-'24 academic year. They can opt in at adobe.osu.edu, and if they previously took advantage of Adobe, they should renew their access when prompted.
Students and faculty also have access to Adobe Express without needing to opt in. This multi-media editor allows you to make videos, flyers, posts and animations all in one place with the ability to collaborate on projects and leave real-time feedback. Log in on the web or on mobile with your Ohio State email.
Classrooms Refreshed and Podcast Studio Opened
This summer our Learning and Collaborative Environments team made technology and environmental upgrades to more than 50 classrooms and spaces across campus. We also opened a new podcast studio at the Digital Union Work Studio in Hagerty Hall for faculty and student use.
Improving Wi-Fi at Ohio State
Ohio State is transitioning to eduroam as the primary secure network for Ohio State students, faculty and staff, with osuwireless set to retire in summer 2024. If your personal device is not already connected to eduroam, be sure to connect today to avoid reconfiguring your Wi-Fi connection every time you update your Ohio State password. As an added bonus, connecting your device to eduroam allows you to remain connected to secure Wi-Fi when you visit participating institutions around the world. Learn more at the wireless.osu.edu site.
Cybersecurity for You Welcomes Students
Since its launch in 2019, thousands of faculty and staff have used Cybersecurity for You (C4U) to learn about a range of cybersecurity topics to protect their digital lives, both at work and on personal devices. Several instructors have asked the team about utilizing C4U in their classes since its inception, so we're excited to announce that students are now able to access the platform!
C4U is Ohio State's cybersecurity awareness platform, run by your colleagues in OTDI. It offers short activities that provide actionable techniques on a variety of cybersecurity topics, including identifying phishing attempts, how to use VPNs, apps and location tracking, and what to do if you lose your phone, to name a few. Users can choose topics that interest them, and each completed activity earns points that can be put toward rewards. The start of the semester is the perfect time to take steps to protect your digital life, and we encourage you and your students to see what C4U can do for you!   
Be Sure to Use Approved eLearning Tools
We know you want the best learning experience for your students, and you might be tempted to try out free online tools or networking sites. Many of these free tools involve a clickthrough agreement or other statement that requires you to agree to terms and conditions. Please be aware, you are not legally allowed to accept these types of agreements as an employee of Ohio State. You should only be using supported and vetted tools available university-wide or through your college or department. Learn more about clickthrough agreements and your options for safe (and legal) eLearning tools.