CarmenZoom: New Accessibility Features Available Now!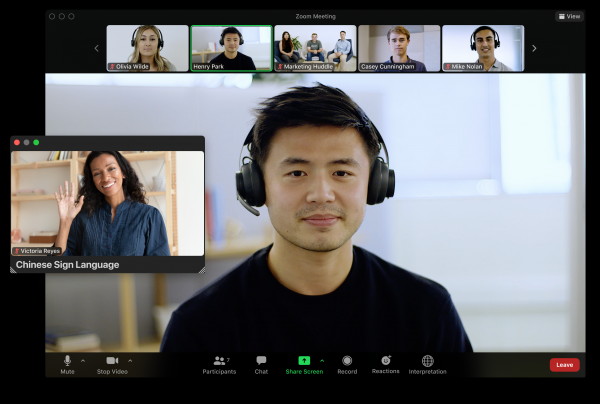 By now, we all have had time to familiarize ourselves with CarmenZoom. While we have all surely had a meeting or two on the platform, many students and staff alike are unaware of the continually improving accessibility features offered through Zoom. Let's take some time to dive a bit deeper into what Zoom has to offer, and how it can benefit you. 
Captions
The first and most used accessibility feature among students is the ability to turn on automated captions. With a recent upgrade, Zoom users can now turn on this setting individually without needing the host's permission. One thing worth noting here, though, is that these captions are not fully ADA compliant; however, this does not mean that they are not still useful. By enabling this feature, users are able to read automatically generated captions on their screen as the computer translates the audio to text. This is a great resource for when you forgot your headphones, are having trouble hearing in a loud in environment, would like additional support paying attention and following along, etc.
Download Captions
You may have known about the captions, but did you know that they are available for download? In order to do so, you must view the full transcript where you will see a button marked "save transcript." This feature is very helpful for students studying after class, especially for those who may be more inclined to sit and listen to lecture rather than take notes while the instructor is speaking. Instructors and other meeting hosts have the option to disable this feature if their meeting involves sensitive information; however, the setting is on by default.
Language Support
What if your online course or meeting isn't in English? Zoom now recognizes 20+ languages! Similar to English closed captions, technology within Zoom allows speech-to-text to be automatically generated from a variety of different languages. A current Ohio State student minoring in Spanish recently said, "I loved how CarmenZoom gave me the option to use Spanish captions. It made it easier for me to learn and follow along during my Spanish class."
Designated Interpreters
It is now becoming easier than ever to communicate through language barriers. With a recently added Zoom feature, hosts are able to designate an interpreter to translate from one language to another. With this designation, a separate audio track will be provided allowing guests to listen to whichever language they may need. Additionally, if used for sign language, interpreters will be highlighted in a separate window that is included in all recordings. In order to use this feature, hosts should enable this in thei account settings at carmenzoom.osu.edu prior to the start of a meeting.
---
In conclusion, these four features are helpful for students and staff alike providing great resources for any and all classes, club meetings, and more! You can learn about these features and more in the Teaching and Learning Resource Center. While these tools are supportive, they are not fully ADA compliant. If you need help making your online courses accessible, you should work with Student Life Disability Services (SLDS) for the best options for accessibility accommodations. You can also contact Ohio State's ADA office for all other accessibility concerns.