Updates to Teaching and Learning Tools for Summer 2023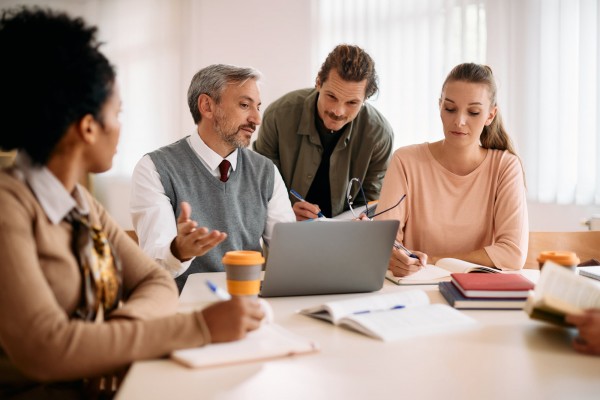 As you start summer term and begin preparations for autumn, the Office of Technology and Digital Innovation (OTDI) wanted to share some updates and reminders about teaching and learning tools available at Ohio State. You may experience some new features in CarmenCanvas and CarmenZoom, and you might start noticing more use of tools like PebblePad, Adobe and OneDrive. You've likely also seen the emergence of AI tools like ChatGPT, and experts from across the university weighed in to provide guidance on use of AI tools in the classroom.
As always, don't forget to consult the Teaching and Learning Resource Center for guidance on using eLearning tools at Ohio State, as well as the Administrative Resource Center for support on other technology offerings.
AI Considerations
The Teaching and Learning Resource Center now includes a comprehensive resource to guide AI use in our academic environments. Experts from across the university created this teaching topic to explain the benefits and limitations of AI, highlight security and academic integrity concerns, and provide examples of how AI can be used to support learning outcomes. Keep in mind, the insights and guidance provided in this teaching topic will evolve as new information emerges around AI tools and their impact on teaching and learning.
CarmenCanvas
Submit Assignment on Behalf of Student
In a recent release, Canvas added the ability for an instructor to submit an assignment on behalf of a student. This feature is available in the Gradebook and allows the instructor to submit to any assignment that allows a file upload. The Canvas Community outlines instructions for using this new feature.
New Quizzes in CarmenCanvas
The New Quizzes tool is available for instructors to explore and can be enabled on a course-by-course basis. At this time, we do not recommend using the tool in active academic courses, as the vendor is continuing their planned development over the summer. However, if you'd like to take a peek at upcoming quiz features, you can enable New Quizzes in one of your forum courses. Activating this feature for your course will allow you to choose between Classic Quizzes and New Quizzes when creating a new assessment. You can also view a release timeline in the Teaching and Learning Resource Center.
CarmenZoom
Caption Updates
If you are an avid captions user, you can now have Zoom's automated transcript appear by default in any meeting you attend. Be sure to adjust the settings in each of the Zoom clients you use (desktop app, iPhone or Android app). In your client settings, click the Accessibility tab and select Always show captions under the Closed Caption header. This can be a handy feature so you don't have to click to start showing captions while in a meeting.
Participants can also save and download the caption transcript, which can be useful for your guests to review later. However, if you are hosting a meeting to discuss a sensitive topic, you may want to proactively disable the save captions feature or set permissions to allow only hosts or co-hosts to save captions.
New Join Flow
When you join a Zoom meeting and are either in the waiting room or waiting for the host to start the meeting, you may notice a new screen. This update to the join flow streamlines the experience for meeting participants. Previously, users would see a different screen depending on how they were joining the meeting.
Keep Your Zoom Apps Up to Date
Be sure you are running the most recent version of Zoom across all your devices. It is always best practice to keep your apps updated for security reasons, and with Zoom it ensures you can take advantage of the latest features. Zoom now requires you to have a recent version of their app installed in order to join a Zoom call. University-managed devices receive routine updates to Zoom, but you should ensure your personal devices are up to date. Learn more about updating Zoom to the latest version.
PebblePad
Ohio State has selected PebblePad to serve as an ePortfolio tool in support of the new General Education (GE) program, and its use will be required in some GE courses. The Honors and Scholars programs are also taking advantage of this new tool to fulfill their ePortfolio requirements.  
All Ohio State faculty, staff and students will have access to PebblePad to create personal, professional and academic portfolios. If students in your course have questions about this tool, they can learn more in the Teaching and Learning Resource Center or at eportfolio.osu.edu.
Over the summer, the vendor is continuing work to fill accessibility gaps so we can maintain our planned rollout at Ohio State, integrating new users each semester.
Adobe Creative Cloud
All faculty, staff and students at Ohio State have access to Adobe Creative Cloud and its suite of desktop and mobile apps. You and your students can use Adobe to create professional videos, photos, websites and so much more. Are you interested in learning more about Adobe tools and how they could be used in your course? The Digital Learning team is hosting an info session on June 27.
Encourage OneDrive Cloud Storage
Be sure to remind your students that they have access to OneDrive, the university's preferred, secure cloud storage option. OneDrive is available at no cost, along with the rest of the Microsoft 365 suite of tools. OneDrive is great for storing course assignments and notes so students can access them across devices. OneDrive also makes it easy to share and collaborate across the university. You can learn more about OneDrive in the Administrative Resource Center.
Remotely Access Software Using Virtual Desktop  
Virtual Desktop has been used at Ohio State to remotely access software for several years, and the tool is currently available for all students and instructors at the university. From accessing software that usually requires a trip to an on-campus lab, to running Windows programs that are typically unavailable on a Mac, or using course-required software that can only be run on a high-powered machine, Virtual Desktop provides several benefits by making a select set of software available from anywhere with an internet connection. Be sure to remind your students of this valuable resource.
Faculty Information System
Vita, powered by Elements, is the current faculty information tool at Ohio State where faculty and staff have been tracking publications, presentations and other accomplishments. Vita is currently deprecated and will be retired on August 1 to make way for a new faculty information process and tool. Learn more about next steps at the it.osu.edu site.
Duo Reminders
While there are several ways to use Duo, we recommend downloading the free Duo Mobile app on a smartphone and/or tablet for the quickest and easiest access. Remind your students that the Duo Mobile app can send pushes automatically to their devices for quick authentication. Even if your students don't have wireless or cellular access on their device, the app can still provide passcodes that can be used on the BuckeyePass login screen. It is also highly recommended that you register more than one device so you always have a backup option.
---
Looking for more information as you plan out your semester? Be sure to visit the Teaching and Learning Resource Center for help with our eLearning tools. Here you will also find a growing repository of teaching topics to learn more about best practices for planning your courses, choosing teaching strategies, supporting your students and more.