Mastering Microsoft 365: New Features for Fall
Microsoft continues to roll out new features and enhancements to its most popular apps. In the coming months, you will see changes that improve your ability to meet with teams, present materials and share files and information. In addition, OTDI will be updating our interface to enable Business Titles to be displayed in all Microsoft 365 applications. More details about upcoming enhancements are included below.
Microsoft Teams Updates
Use Channel meeting invitation to send a meeting invite to the entire team
Often, channel meetings get missed since users are not appropriately notified about them. Channel meeting invitations will now allow channel meeting organizers the ability to share invites on personal calendars of all channel members. With the added enhancement, meeting organizers can turn a toggle button on the scheduling form when scheduling a channel meeting. Once the toggle is turned on and meeting is saved, all channel members will be notified of the meeting on their main work calendar.
WHEN: This feature will be enabled by end of October 2023
HOW TO: Meeting organizers can turn a toggle button on the scheduling form that will notify all channel members of the meeting on their main work calendar.
Attach cloud files in Chat and Channel using Teams Mobile
A new enhancement will enable you to upload files from OneDrive from Teams
Mobile chat and channel for iOS and Android. Additionally, you can view Recent files, enabling you to find files you have accessed most recently.
WHEN: This feature will be enabled by end of October 2023
HOW TO: To upload files, click on the '+' icon in any chat or channel message when composing and then click on the paperclip icon.
Use one tool for emojis, stickers and GIFs
Users will soon find all of their emojis, GIFs, and stickers in a combined tool in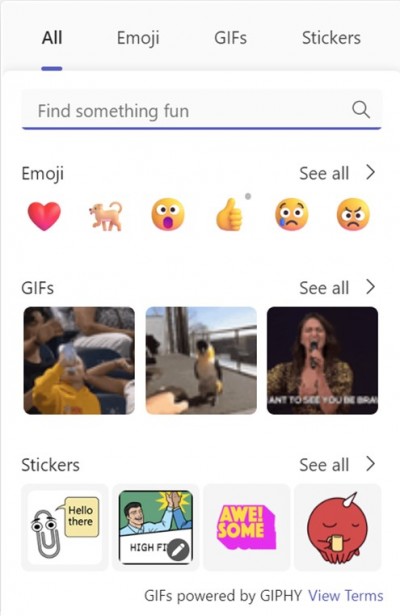 Microsoft Teams. All the fun content will remain as normal for users to add in their messages.
WHEN: This feature will be enabled by end of November 2023
HOW TO: Users can find emojis, GIFs, and stickers combined in one menu under the smiley face icon.
Power Automate app updates to "Workflows" and "Connectors"
Microsoft is merging the existing Workflows app with the Power Automate app to provide a unified workflow experience within Microsoft Teams. With this merger the Power Automate app will be changing its name to "Workflows." Power Automate will take the place of Connectors in the menu, but Connectors will still be available under "Manage Channel."
WHEN: This feature will be enabled by end of November 2023
HOW TO: Continue to access Workflows through the menu on the left side of the Teams windows under Apps. Connectors will be moved to the channel settings page, under "Manage channel." Users will still be able to see and manage their existing connectors.
Other Microsoft 365 Updates
Titles will be updated in Microsoft apps on Oct. 18
When you use Microsoft applications like Outlook and Teams, you may have noticed your title is incorrect or outdated. Beginning on Wednesday, Oct. 18, OTDI will be making a change that will pull titles from Workday. Going forward, the title value will reflect your Business Title from Workday.
WHEN: This feature will be enabled on Oct. 18, though it may take 7-10 days before you will see this change in every Microsoft application.
HOW TO: No action required
Outlook and Teams desktop share personal work locations
Your work location can now be included on your contact cards in Outlook on the Web and will soon be available on your desktop version of Outlook and Teams. You must set your location for the feature to work; this article on Microsoft's site provides details.
WHEN: These features have rolled out to Outlook on the Web. Teams and Outlook clients will receive the updates by November, originally August 2023. 
HOW TO: To set your work schedule in Outlook on the Web, do the following: 
Select Settings > View all Outlook settings > Calendar.

Choose work hours and location, and then define your work schedule by choosing days, times, and locations. 
Customize navigation on Microsoft 365 Home Page
A new customization feature will allow you to choose which apps appear on the left navigation on your Microsoft 365 Home Page. This feature gives you control to display the apps you use and access frequently.
WHEN: These enhancements begin rollout in October and will be completed by mid-December.
HOW TO: The current set of default apps on the app bar will be removed, and you will be able to pin the specific apps they you. Users will be able to add and remove apps to the left navigation from the Apps page at Microsoft365.com/apps.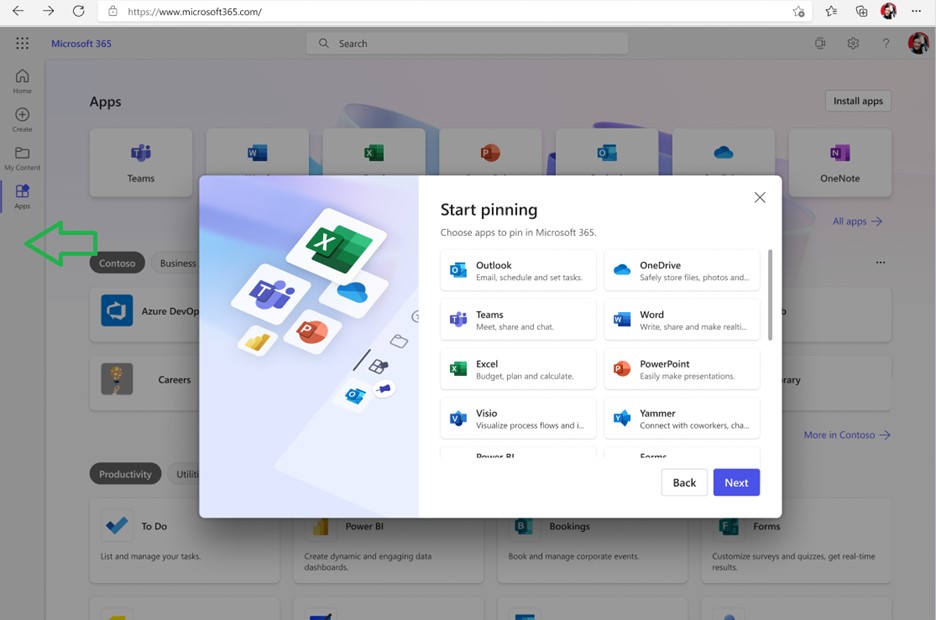 ​​​​​
New features for Forms app live presentations
Microsoft Forms was recently updated to enhance the live presentation experience to be even more immersive and seamless when you present your forms or quizzes. These include:
Extra space available to showcase your questions and display more content

Auto-sizing on images to ensure they are not cropped or cut off

New Treemap feature presents most popular answers in graph form

Space to present detailed responses to open-text questions

Option to display or hide URL and QR code

Only your question will be displayed in the new full screen mode
Full details for these features are available here
WHEN: These features are available now.
HOW TO: Full details for these features are available here