Accessible Entrances, Wellness Spaces Now Available via Ohio State App
With the tap of a button, users can now view accessible entrances and wellness spaces on the Columbus campus map via the Ohio State app. Thanks to the Office of Technology and Digital Innovation (OTDI) and Facilities Information and Technology Services (FITS), these new resources will help create a more accessible campus travel experience.  
The project is one that Jonathan Reed, a mobile developer for the Ohio State app has been eager to see happen for years. While studying computer science as an undergraduate student at Ohio State, he created an app identifying accessible entrances around campus as a project for a class. Reed, who uses a wheelchair, sought to solve the issues he encountered while navigating campus, especially when finding his classrooms at the start of the semester.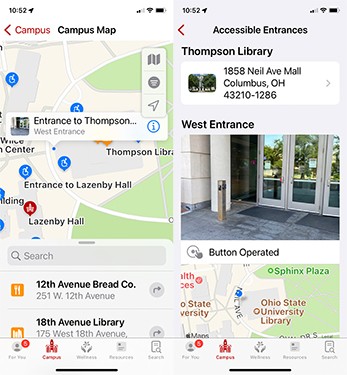 "I would often be late (to class) because I'd find an entrance I thought would work, only for it to lead to a staircase or something," he said. "I'd have to go around the whole building to find a way in."  
When he began working on the Ohio State app, he immediately presented the idea of adding accessible entrance information to the app. The app developers started seeking out an existing database to pull from but discovered they would have to take a DIY approach.   
"We ultimately realized the data we were looking for wasn't available, so we had to go out and get it," Reed said.  
During summer 2022, 12 staff members from the OTDI and FITS spent three days visiting more than 175 Columbus campus buildings. "Everyone came together in a unified effort to make this possible," said Reed. "I am incredibly appreciative to have been a part of these endeavors to make campus more inclusive and accessible."
This team collected images and data for more than 325 accessible entrances and visited more than 160 wellness-related spaces to collect additional room amenity details and access requirements. These spaces included lactation rooms, wellness spaces for quiet reflection and personal well-being and sanctuary spaces designed for religious or devotional use.   
To confirm an entrance was practically accessible, the team checked for elements like a ramp, sliding doors or automated openers. They also confirmed that the entrance didn't lead to a staircase or heavy doors that would make it less accessible. In addition, the team visited each lactation, sanctuary and wellness space to collect images, access details and notes on water and refrigerator access to provide extra information for those who intend to use those spaces. Data collection is ongoing for satellite and regional campuses.   
Finding a place for all that data required collaboration across the university, so FITS built a tool through Geographic Information System (GIS) for data collection, which OTDI translated into information for the mobile app  
"We were excited to work alongside OTDI to provide additional mapping resources to the university community," said Larisa Kruger, GIS manager in FITS. "We look forward to continued opportunities to use tools like GIS to enhance facilities accessibility information at Ohio State." 
Visit the campus section of the Ohio State app to find accessible entrances, wellness spaces, gender neutral restrooms, Wi-Fi locations and more. If you don't have the app yet, download it now in the App Store or Google Play.