Ohio State IT works to keep students, staff online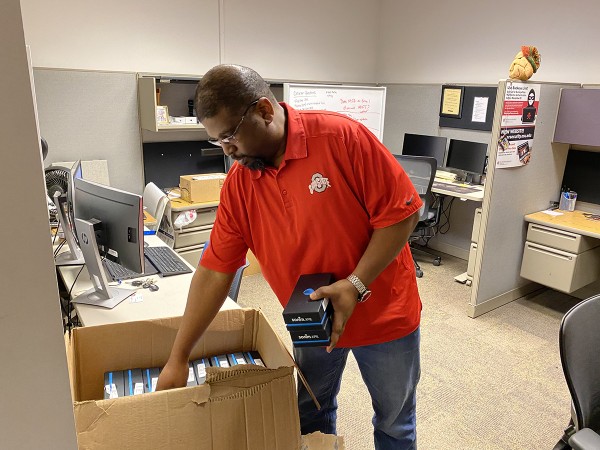 Usually, a vast network of thousands of wireless access points across The Ohio State University's six campuses keep students and employees working, teaching and learning online.
That all changed when Ohio State President Michael Drake announced March 12 that face-to-face classes would be going virtual after spring break due to the coronavirus outbreak — and followed up soon after with a requirement that all employees that can do so must work from home.
As a result, most of the university's more than 68,000 students and 49,000 employees are relying on their own home internet access. For some, that's enough. For others, it hasn't been.
Making sure Ohio State students, faculty and staff have the internet access they need has been a top priority for OCIO and the Office of Distance Education and eLearning (ODEE), said Bill Phillips, OCIO chief relationship officer.
"The goal is to give them every opportunity to have access to the online resources they need," Phillips said.
Max Treboni, director of service operations for OCIO, said his team of 100 full-time service desk technicians has seen a higher-than-usual volume of tickets over the last few weeks.
"We've definitely been hearing from way more people than we would normally at this time of year," Treboni said.  "We support folks across the entire state at extension offices, and some of those areas just don't have good (internet service provider) options for people's homes, so that's definitely been a pain point in some of those areas."
Service desk technicians start by steering people toward the free and reduced-cost internet options listed on the Keep Learning and Keep Working websites.
"We've been communicating with all the cable and internet providers," Phillips said. "You can also check with your current internet provider if your internet seems slow. The demands that are being placed on networks now at everybody's homes are significant, so you may need to increase the amount of bandwidth on your home network."
The need for alternative internet access became clear as units such as the Office of Diversity and Inclusion and the Office of Student and Academic Success surveyed students to see what technology they might need to finish the semester remotely, said Cory Tressler, ODEE director of learning programs and Digital Flagship.
Provost Bruce McPheron approved the purchase of 100 mobile hot spots for students with limited or no internet access at home. An additional 140 mobile Wi-Fi hot spots have been deployed to faculty and staff as of March 26.
Another option some might not have known about is eduroam, short for education roaming.
"Think about it as an international federation of universities who have gotten together and agreed to host that network," Phillips explained.
Using eduroam, Ohio State students, faculty and staff can access the internet at more than 3,000 locations worldwide when they authenticate using their Ohio State username (lastname.#) and password.
And from March 20-23, engineers from the Office of the Chief Information Officer (OCIO) ran cable to set up Wi-Fi access in one parking lot on each of Ohio State's campuses as last-resort option so people can park and work or study while remaining socially distant.
"It's been a Herculean task," Phillips said of the work to ensure continued internet access for the Ohio State community. "If you had told me a month ago we would be doing these things, I would have just laughed."
Tressler and Treboni said they're grateful for the positive attitudes they've seen from those working on the projects and from those who have needed help.
"Everybody has been so awesome to work with," Tressler said. "This is a very challenging situation, but it's brought out the best in a lot of people across the university."