Apple and Ohio State Team Up to Create App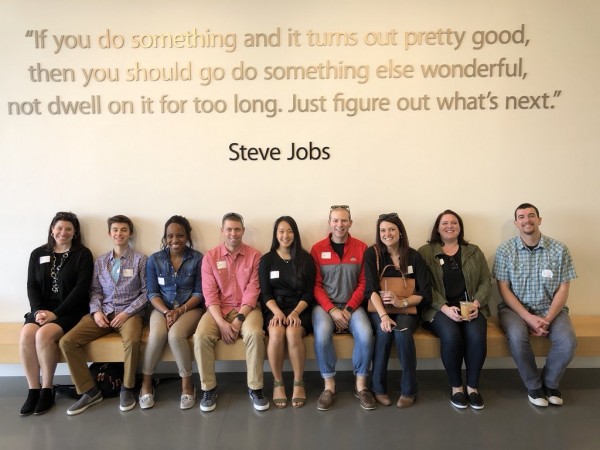 There's a part of Apple's Cupertino headquarters you've probably never heard about. Until now. A group of students, administrators and developers recently visited the Apple Enterprise Design Lab to envision a new app for use at the university; making Ohio State the first higher education institution in the United States to do so. This lab houses Apple designers and developers who help a select group of companies, and now Ohio State, ideate and create apps in iOS to improve the experience of their customers, or in our case, students.
The opportunity to work with Apple designers and developers over the course of three days in Cupertino was made possible by Digital Flagship, Ohio State's new digital learning and student success initiative. In addition to app creation, Ohio State will provide all first-year students in fall 2018 a technology package that includes iPad Pro, and will bring a iOS design lab to campus.
Before heading off to Cupertino for the first app creation session, the Digital Flagship team started with the identification of an ambitious but attainable goal; creating an app to benefit first-year students at orientation and beyond, all before the summer of 2018. Next, important voices were brought to the table: Ohio State administrators, developers and students.
Brielle Davidson, a resident advisor and third-year biology and pre-med major, was one of four students sent to Cupertino to guide the creation of this app.
"I'm currently an RA for mostly first-year students, so I have some pretty insightful points about what they need beyond orientation and their first couple weeks here at Ohio State. Not only that, but I'm an out-of-state student, so I was able to help offer suggestions and ideas to capture the multi-dimensionality that first years bring to the table." Said Davidson of her involvement. "Next thing I know, I had an email in my inbox, that I thankfully didn't delete, and everything was worked out in order for me to be able to go to California."
The team traveled to Cupertino, California for a three-day intensive design session. They brainstormed ideas and ran through student scenarios in order to build out the wireframe of an app focused on incoming Ohio State students.
"The efficiency of the process was crazy. In just a matter of three days, we started with just an idea and ended up with the framework and foundation for a tool for students to maximize their resources at Ohio State." Said Davidson of the process. "Apple helped facilitate a collaborative space where developers, designers, educators and students were able to bounce ideas off of each other. There really was no bad idea."
Student feedback was integral during development. Conversations between all members of the team helped to build the outline of an app that would provide value for incoming students.
"I was so impressed with the students," said Emilie Meade, Senior Mobile Developer at Ohio State. "They provided us with fantastic ideas and feedback."
Emilie Meade and Ohio State Mobile and Web Development Specialist, Chris Fish spent their time with Apple developers building connections and sharing knowledge.
"It was great to go out and talk to people at Apple who have a great deal of experience with their platform and can point out places where we can improve," said Fish.
"Being able to ask questions and have these conversations, instead of just reading on the web, is a huge value and time saver," echoed Meade.
When it was time to head back to Columbus, the team took with them a wireframe design that was a synthesis of all their conversations and collaboration in Cupertino.
Over the next three months, the Ohio State app development team will work to build out the app based on the plan made at the Enterprise Design Lab. They will work with members from across the Ohio State community to make this ambitious app a reality for incoming students. Similar to the Ohio State app, the team will beta test the app before the public release, allowing a group of testers the opportunity to provide feedback and allow the team to make necessary changes and ensure accessibility for all users. 
Throughout this experience, both students and staff members learned about each other and the design process.
"I really couldn't have asked to work with a better group of people," said Brielle Davidson. "Going through Apple's design process really challenged me to view my problem-solving techniques a bit differently (a bit more efficiently), and also to see the multi-dimensionality of the user experience in any field."
Do you have an idea for an app that would better the student experience or improve a process at the university? Ohio State will be traveling to Cupertino again in the autumn and Digital Flagship is currently accepting app proposals. Apps will be evaluated based on need, scope and viability. If your idea is suggested for additional review, you will be contacted to provide details and input. Direct all questions to digitalflagship@osu.edu