Application Opens for Digital Flagship Educators Cohort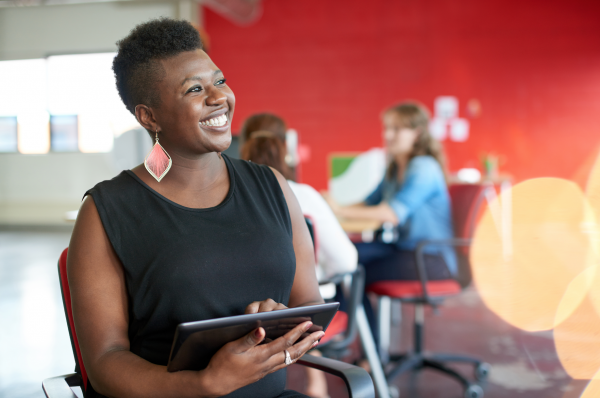 *Applications have closed. We are currently reviewing submissions.*
Digital Flagship, in collaboration with the University Institute for Teaching and Learning, is pleased to announce the Digital Flagship Educators cohort, a new opportunity for instructors and graduate students teaching general education courses to enrich their lessons with technology.
In autumn 2018, all incoming first-year students will receive an iPad Pro package as part of the Digital Flagship initiative. The Digital Flagship Educators cohort, in concert with the registrar, will partner with instructors to maximize the usefulness of this investment in student success by developing 'iPad Required' sections of their 1000- or 2000-level courses for the 2018/2019 academic year. Participating instructors will be provided ample support to design a course that effectively capitalizes on the potential of a tech-emboldened student body.
Supporting instructors is integral to the success of our students. This program is designed to create a community of instructors empowered to integrate technology within their courses and share best practices across disciplines. When given freedom and the right tools, instructors can create powerful learning experiences for their students and Digital Flagship looks forward to supporting those efforts.
Selected participants will receive:
Four days of professional development in May 2018 with other instructors and staff. Programming will address course design, device fluency, accessibility and technology supported pedagogy. This training will expose participants to a variety of tools and best practices for teaching with technology. Meals included. 
Access to one-on-one support with Ohio State instructional designers.
An iPad Pro with Apple Pencil, Apple SmartKeyboard, Apple Care+, educational apps and a protective case for use in their teaching, learning and research at Ohio State. This is the same package first year students will receive as part of the Digital Flagship initiative.
The Digital Flagship Educators cohort will include graduate teaching assistants, adjunct instructors and tenured faculty: it is open to all who teach at Ohio State, regardless of campus or course type (online, hybrid, traditional).
To qualify for the program applicants must: 
Teach a general education course at the 1000 or 2000 level
Have departmental support to create at least one 'iPad Required' course section for 2018-2019 academic year. The registrar has partnered with the Office of Distance Education and eLearning (ODEE) to create 'iPad Required' sections of selected 1000 and 2000-level courses. Students enrolled in these sections are expected to have an iPad. All first-year students will receive an iPad Pro provided through the Digital Flagship Initiative.
Be available to attend four days of training in May 2018 in Columbus, Ohio. Instructors residing outside central Ohio will be provided lodging.
Be excited to showcase and share course development and projects during the 2018-2019 academic year. 
Interested instructors may complete the Digital Flagship Educators application by Thursday, February 15 for consideration in the 2018 cohort.
Please direct all inquiries about the cohort to digitalflagship@osu.edu and our team will be happy to discuss topics specific to your department. If you would like more information about this or other programs connected with Digital Flagship, please complete our contact form.