Tableau Year 3 - Tableau Collaboration Grows an OSU Community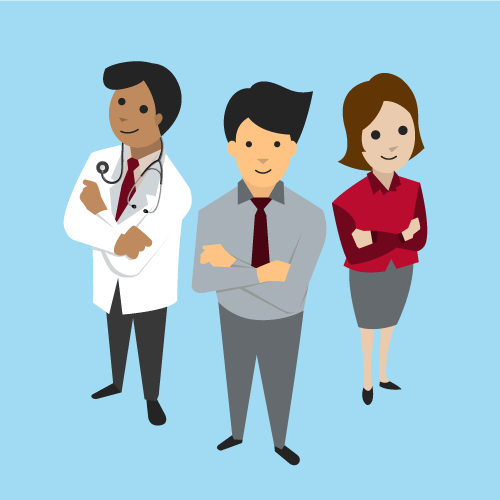 Welcome to the third part of the Three Years of Tableau blog series. In March, our second installment shared highlights of how Tableau was instrumental in implementing Workday at Ohio State, a huge effort and business transformation not seen by the university in decades. In part three of the series, we'll learn more about how the increased use of Tableau and the collaboration it affords has led to an actual Tableau community at Ohio State.
Let's start things off with a common story (hopefully a common one) that exemplifies the power of collaboration in a simple way. Imagine you're sitting around a table with friends or family, just about to enjoy a great meal, when someone asks, "Hey, who was that actor in that movie who was also in that one TV series?" Suddenly, with a whoosh, all the smartphones are out in plain view. Within seconds, as a community, you all know the answer regardless of each person's comfort with technology. Undoubtedly, someone will then respond with, "Wow! What did people do before smartphones?"
In a similar fashion, before sophisticated data and reporting tools like Tableau were available, the ability to obtain real-time reliable data at Ohio State was limited to only a few people, and often depended on who you knew as well as how much time you had to find the necessary analytical expertise.
One of the benefits realized by adopting Tableau at Ohio State is community. Through the existence of the Tableau User Group (TUG) meetings and Iron Viz competitions at the university, the Tableau community has come to represent a living learning framework that continues to grow. Three years ago, there were 15 Tableau power users across the university. Tableau report creators had to refresh and upload data manually. There was no easy way to share insights. Subscriptions or saved views in Tableau were non-existent. In contrast, see how far we've come by checking out the Tableau usage data gathered during the January 2022 survey period.
January 2022 Ohio State Tableau Usage Data
324 Tableau creators; all with the ability to connect to data sources and create dashboards
60+ Tableau Server project leaders – a 510% increase within a few years!
Nearly 100 Ohio State Tableau User Group (TUG) members
16,000 unique Tableau users
11,700 created and saved views**
85% satisfied or very satisfied survey scores with Tableau overall and 82% satisfied or very satisfied survey scores with Tableau Server deployment
88% of responding Tableau creators have transitioned to using Tableau as their preferred tool for building reports
2.1 million events have occurred on Tableau Server. The university community is interacting with data by creating and saving views, emailing interesting facts to others, and leveraging enterprise data to make decisions.
---
**Views allow a user to enter static or dynamic criteria and save the option. In turn, they can regularly access the report or share with others. Views show the user is regularly interacting with the data.
As you've been reading this post, and hopefully the others in the three-year look back at Tableau series, you might be thinking, Tableau sounds great, but I'm not sure my unit's data needs rise to the level of needing a trained Tableau user. If your work requires the recurring sharing of data to varied audiences, like the ones mentioned in the opening example who need to understand information at-a-glance, check out the testimonials that follow. If you see your college or unit in these stories, then Tableau can probably help you.
Testimonial #1 – Engineering
"Last year we launched the College of Engineering's annual report through Tableau, replacing an old 125+ page PDF document. Historically the report would take weeks to assemble. By assembling, I mean simply formatting the data to fit on a pdf document--this does not include additional work and time required or querying or analyzing data.
It took almost all summer 2020, but we developed 20 or so dashboards to replace the annual report. Obviously, this is nowhere near as impressive as the COVID dashboard, but [now] seeing thousands of hits on our dashboards is a little crazy to think. I cannot imagine manual non-OSU people were really taking the time to download our old PDF to read it. However, it seems dashboards are more accessible.
[Currently] we are working to push out the 2021 report. Since the Tableau dashboards are already out, updating with the new data [only] takes minutes. This is replacing the weeks it took in the past to put together that massive document. We are taking time and tweaking and improving a few things, but that is because we are in year 2. I image in the coming years it will simply be just updating the data."
From Austin Mack, Data Reporting Specialist, College of Engineering.
Public dashboard: https://engineering.osu.edu/about/annual-statistical-report
Testimonial #2 – Institutional Research
"Created as a benchmarking resource, integrating contextual current and historical data, [the] Facts at Ohio State dashboards provide a wide range of publicly accessible data. These dashboards serve as a helpful resource for our Executive Vice President when comparing Ohio State to other universities.
Looking towards the future, we hope to partner in creating curated Tableau Data Sources that can be used across all colleges and units. This will help avoid recreating the wheel."
From Jay Johnson, Associate Director of Institutional Research & Planning.
Public dashboard: https://facts.osu.edu/dashboards
Testimonial #3 – Alumni Engagement
"The Engagement dashboard has and will do HUGE things for making data more accessible and digestible for engagement professionals across Advancement. Historically, this group has relied heavily on a few reports and/or assistance from the Advancement BIDS team to help them pull and analyze data. Giving the group a tool that allows for more self-service and real-time exploration is and will help them become comfortable in working with and understanding the information.
One important thing to mention, is the group now fully understands that using data is an expectation and the way we will work from now on. While it may take longer for some to become fully acclimated, they know that they need to set the time to learn as this will be critical to decision-making moving forward, and that this is how we best align our work with our development colleagues."
From Samantha Frost, Senior Director Alumni Experiences.
If you have additional questions about the Tableau service, please contact Jimmy Anthony and Maureen Henry.
You can join the Tableau User Group (TUG) through MS Teams to become a member of the community and stay apprised of all things Tableau.