JAMF Connect for Mac Users on 11/23
The following applies to all Managed IT Services partners
The Office of the Chief Information Officer (OCIO) is switching from Enterprise Connect to JAMF Connect to manage log ins and passwords for Mac computers as Enterprise Connect has been discontinued.
On Monday, November 23 you will be prompted to log in to JAMF Connect. Enter your university lastname.#@osu.edu and password. You may need to authenticate via BuckeyePass. After this initial connection, you will be asked to sign in to your mac with your name.#@osu.edu from this point forward.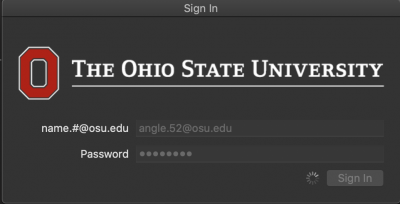 *Please note: student employees will need to use their lastname.#@buckeyemail.osu.edu address.
JAMF Connect includes features such as:
Account Demobilization – your Mac will no longer require cached credentials to log in while off-campus. JAMF Connect utilizes local accounts which makes for a more reliable sign-in process.
Keychain syncing – Have you ever changed your password and you have to type in your old password to login to your mac? JAMF Connect makes sure your keychain is synced and provides a way to sync manually if needed.
Change Password Link – JAMF Connect has a link straight to my.osu.edu if you need to change your password. 
Password Expiration- JAMF Connect conveniently displays when your password is set to expire so you may plan accordingly
For more information on Jamf Connect, please reference KB06263.
Please contact the IT Service Desk via online Self Service at go.osu.edu/it or call 614-688-HELP (4357) and select option 3.