Large-Classroom Buildings, Ohio Stadium, Oval on Track for Improved Wireless Connectivity this Fall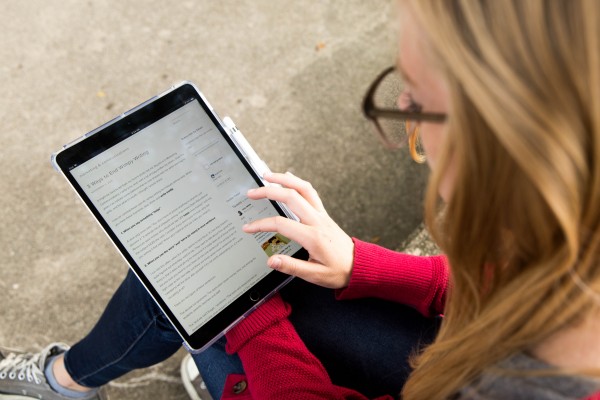 The Office of the Chief Information Officer (OCIO) has been continuously working to improve wireless connectivity at Ohio State. Hundreds of access points have been added throughout the academic year, and the Wireless Expansion project has even more work planned for this summer.
A major area of focus for the expansion project is a group of academic buildings that house high-capacity classrooms on Columbus and regional campuses. With thousands of students receiving common technology kits as part of the Digital Flagship initiative, it is even more imperative that our classrooms and labs are able to keep students connected.
Before autumn semester, these high-capacity classroom buildings will house 415 new access points (APs), which is nearly a 60% increase in the number of APs that existed previously at these locations. This expanded coverage is on schedule to be completed before our next wave of Digital Flagship students arrive on their respective campuses for the first day of class.
Ohio Stadium is getting a boost as well. A whopping 1,850 APs are scheduled to be installed over the summer and into early fall semester. These new APs will support ticketing, the press box, the main bowl of guest seats, suites and club rooms, the concourse and outdoor areas. The goal is to complete all bowl access point installs before the first home game, with the remaining areas gradually completed early in the season.
In addition to academic buildings and sports venues, the Wireless Expansion project is also targeting outside spaces. OCIO's wireless engineers are currently in the design phase for nearly 100 light pole access points that will help boost coverage outside the walls of the classroom. The iconic Oval on Columbus campus is included in this wave of AP installs, with plans for its completion by the start of autumn term.
The Wireless Expansion project will continue through Summer 2020, so look out for more updates as well as connectivity in new places! If you ever encounter wireless issues at Ohio State, please remember that your feedback helps OCIO continue this valuable work. You can submit a ticket to the IT Service Desk online at go.osu.edu/it or by calling 614-688-4357 (HELP). If you provide specific information about where you are and what device you are using, those details are very helpful in diagnosing the issue.