Students and Educators Share Experiences with Technology Toolkits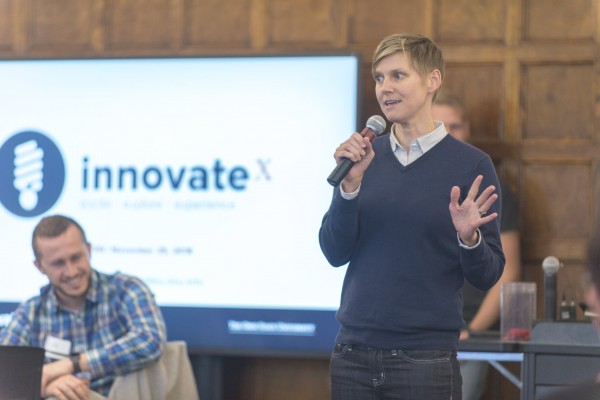 On Wednesday, November 7, educators from across Ohio State and beyond gathered to share how technology is enhancing the student experience. From professors to advisors, from support staff to students, attendees had the opportunity to learn first-hand from Digital Flagship Educators. This cohort of instructors has been provided a common set of technology tools, including iPads, as well as training and support for effectively incorporating these devices into their teaching strategies.
Presenters discussed unique assignment types they can now implement; they showed how to get students excited about using technology; they shared real-world and academic applications for various software programs; and they highlighted a range of benefits digital textbooks can provide.
New for 2018, the Innovate Faculty Showcase also included the voice of students. The group shared how they are using iPads and various apps to enrich their notetaking and studying habits. They even highlighted how technology is helping them find balance in their busy lives. They noted that scheduling apps are great for tracking course requirements and assignments, but also for blocking off personal time for friends, family and "me time" to support mental health.
Learn more about the topics discussed at the 2018 Innovate Faculty Showcase or watch the full recording of the presentations.
The Faculty Showcase is an annual fall event hosted by the Innovate conference, providing a taste of what's to come at the larger conference in the spring. During the Showcase, the theme for the 2019 Innovate conference was announced through a brief video:
Be sure to save the date for Thursday, May 16, 2019, so you can join us for InnovateX as we celebrate the 10th year of the Innovate conference! We'll find new ways to excite students about learning, explore teaching opportunities outside the classroom and delve into the student experience.