OCIO and CFAES Work Together on Core, Common, Unique IT Services
The College of Food, Agricultural, and Environmental Sciences (CFAES) supports thousands of students, staff and faculty throughout the state. Working together to move the college's three mission areas forward, the members of this large and growing community have a wide range of IT needs. CFAES and the OCIO have worked together for over a year to build the best framework to address these needs as efficiently and cost-effectively as possible.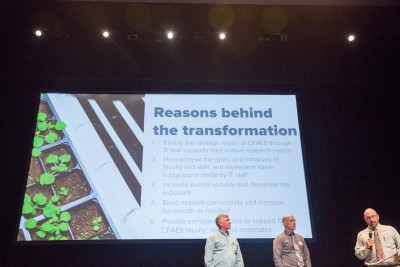 The official Managed IT Services partnership began in April. Over 30 CFAES employees transitioned to the OCIO team, and additional IT team members remained with the college to be part of the new CFAES IT Services team. While the OCIO focuses on the core and common services, which include networking, device management, and tech support, the CFAES IT Services team is dedicated to handling the unique needs that come with the sometimes one-of-a-kind research being done in the college.
"The spirit of this transformation began with a focus on the people first – both the IT staff and the faculty, staff, and students that we serve," describes Bob Corbin, senior director of infrastructure at the OCIO. "This has continued to be our guide through every decision-making process along the way and will always be at the center of our mission as partners."
There has already been a significant amount of progress made since April. One unit moved to OCIO services in June and several Wi-Fi upgrades are underway throughout the state. A large portion of the work has been focused on setting the foundation necessary to move the college to OCIO's core services and discover unique IT needs for research projects. The college and OCIO teams are working closely together to meet with representatives in each unit to make sure their immediate IT needs are met and create a plan for the future.
Mike Chakerian, the new director of information technology at CFAES, has already seen the benefits of approaching this transformation as one team.
"While those working for the OCIO and the CFAES IT Services teams appear to be separate from an organizational perspective, this has been an engaged partnership since the beginning starting with the leadership of both groups," said Chakerian. "OCIO's core and common services will lay the foundation needed to provide our unique IT services with resources that fuel the mission-specific work being done here. Working together is a crucial component in the success of the overall transformation."
Providing core, common, and unique IT services to CFAES will be a team effort for years to come as these groups are just getting started. Visit the Managed IT Services website for more information about what these partnerships entail.