Jump Start Your App at App Fest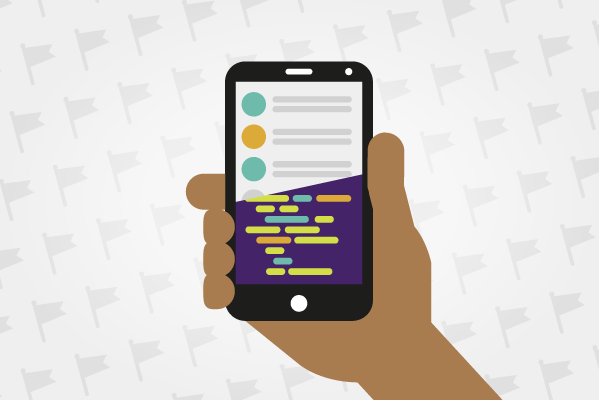 In the past year, you've probably used mobile apps daily to order food delivery, stay in touch with loved ones and take care of your health. With so much app usage, you may have discovered an area where app options are lacking or gotten ideas for how apps can help your own business or career. There's a lot that goes into creating an app that's both helpful and easy to use. Get a look into the app development process at App Fest, a free online event that teaches you how to make your app a reality. From coding and design to business practices, App Fest has a session to help you get your idea to the App Store.  
Digital Flagship is partnering with the Keenan Center for Entrepreneurship and Hack OHI/O for this year's fully online event. Join us for a synchronous panel or workshop on CarmenZoom or complete a self-paced session independently in CarmenCanvas. Sessions are offered from March 8 to March 10.  
Workshops are free and open to all. Sign up with your friends, family members or coworkers!
Monday, March 8
Design Thinking
11 a.m. to 12 p.m. (self-paced Carmen course)
Explore the human-centered approach to problem solving: design thinking! Learn the 6 step approach to Design Thinking to ensure your app idea meets the needs of your audience and saves you time, energy, and even money during your app design and build process. Register
iOS Shortcuts
1:30 to 2:30 p.m. (self-paced Carmen course)
Automate your iPad or iPhone and boost your productivity. Learn how to use Siri Shortcuts and the Shortcuts app to combine multiple steps with the sound of your voice or with the touch a button. Register
Talk with Ohio State App Developers
4:00 to 4:45 p.m. (self-paced Carmen course)
There are a lot of ways to learn how to code before starting to work in software development. An increasingly common one is being self-taught, and learning through building your own ideas. We got a chance to talk to the team behind the Ohio State app about their own journeys in coding. Register
Amazon Web Services
5:30 to 6:15 p.m. (live Zoom session) 
In this session, we'll provide an overview of Amazon Web Services (AWS) and how to get started, and discuss helpful resources and services that can help users get started and rapidly prototype their ideas.

About Amazon Web Services: AWS is the cloud build for builders. A cloud that gives those bootstrapping startups the scale of enterprise, and the Fortune 500s the agility of the garage entrepreneur. AWS offers cloud solutions ranging from AI and machine learning to content delivery, e-commerce, data lakes, and many, many more. Register
Tuesday, March 9
Talk with Ohio State App Developers
10:45 to 11:30 a.m. (self-paced Carmen course)
There are a lot of ways to learn how to code before starting to work in software development. An increasingly common one is being self-taught, and learning through building your own ideas. We got a chance to talk to the team behind the Ohio State app about their own journeys in coding. Register
Design Thinking 
12:30 to 1:30 p.m. (self-paced Carmen course)
Explore the human-centered approach to problem solving: design thinking! Learn the 6 step approach to Design Thinking to ensure your app idea meets the needs of your audience and saves you time, energy, and even money during your app design and build process. Register
iOS Shortcuts 
2 to 3 p.m. (self-paced Carmen course)
Automate your iPad or iPhone and boost your productivity. Learn how to use Siri Shortcuts and the Shortcuts app to combine multiple steps with the sound of your voice or with the touch a button. Register
Wireframing Your App 
3:30 to 4:30 p.m. (live Zoom session)
The first step to building an app isn't coding or opening your favorite design program. Instead, start with wireframing – which is a fancy word for sketching out your ideas without the time spent coding or making pixel-perfect designs. Learn wireframing best-practices from a former User Experience Designer who specialized website and app design. Register
Swift Coding (Watch Me Make an App Live) 
5:30 to 6:30 p.m. (live Zoom session)
There's a lot of talk about coding and app development, but what does it actually look like to write an iPhone app? If you're curious but not ready to jump in for yourself yet, this session will go through building an app from scratch. Register
Wednesday, March 10
iOS Shortcuts 
11 a.m. to 12 p.m. (self-paced Carmen course)
Automate your iPad or iPhone and boost your productivity. Learn how to use Siri Shortcuts and the Shortcuts app to combine multiple steps with the sound of your voice or with the touch a button. Register
Talk with Ohio State App Developers 
1 to 1:45 p.m. (self-paced Carmen course)
There are a lot of ways to learn how to code before starting to work in software development. An increasingly common one is being self-taught, and learning through building your own ideas. We got a chance to talk to the team behind the Ohio State app about their own journeys in coding. Register
Design Thinking 
3 to 4 p.m. (self-paced Carmen course)
Explore the human-centered approach to problem solving: design thinking! Learn the 6 step approach to Design Thinking to ensure your app idea meets the needs of your audience and saves you time, energy, and even money during your app design and build process. Register
Tech Leaders in Industry 
5:30 to 6:30 p.m. (live Zoom session)
Digital Flagship and the Keenan Center for Entrepreneurship host a panel with Jerry Valentine (Founder, Renter Mentor), Chris Asman (Founder, Studium) and David Graham (Founder, FuzeMee). The panel will discuss the process of building entrepreneurial spirit, designing innovative human-centered solutions and strengthening leadership skills. Register