Get Fit from Home with Zumba® over Zoom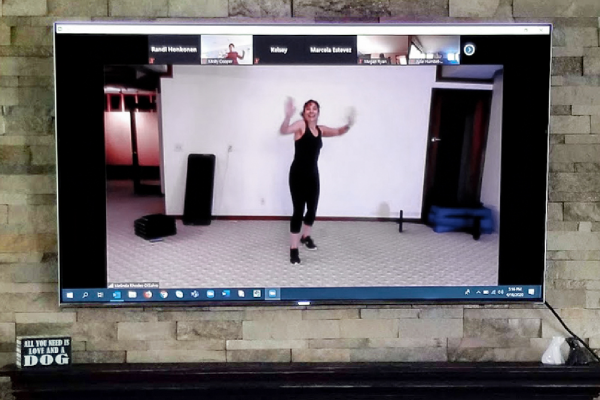 Stay at home orders and social distancing have made a huge impact at Ohio State, from moving courses online to sending employees home to work remotely. This major shift disrupted spring semester and has postponed events that would have occurred across Ohio State's campuses. During times of high stress, many turn to physical, group activities to cope and burn off steam, but fitness classes can no longer meet in-person.
Melinda Rhodes-DiSalvo, associate director of operations and strategic partnerships for the University Institute of Teaching and Learning (UITL), is someone who relies on fitness for her mental and physical health. "I'm a firm believer in exercise and movement – whatever fits an individual best – as a way of practicing self-care," Rhodes-DiSalvo explained.
It's no surprise that she was one of the first instructors to jump in and test out virtual fitness offerings at Ohio State.
In addition to her role at UITL, Rhodes-DiSalvo teaches Zumba and STRONG (a form of HIIT and strength training) classes for Buckeye Wellness and other fitness centers. These fitness "dance parties" now take place in living rooms and basements across the Buckeye state, thanks to CarmenZoom, Ohio State's academic web conferencing service. Check out the available offerings and register for an upcoming session!
Because Zoom is so easy to use, participants have been able to keep moving through classes with minimal troubleshooting. Rhodes-DiSalvo is aware that Zoom won't be a perfect substitute for her high-energy group classes, but she's able to create an engaging and positive environment by being flexible (pun intended).
Rhodes-DiSalvo talks directly to participants with their cameras on to offer modifications and encouragement, or just to check in. She also utilizes the chat feature to find out what moves are working and which moves are more challenging. She said, "The participants tell me what moves they like (or which ones kicked their rear ends), and they're great about helping me improve my delivery."
Feedback from participants has been very positive. Rhodes-DiSalvo received this note after one of her STRONG sessions: "Just wanted to send a quick thanks for continuing to do STRONG. It was unexpectedly comforting to see you leading the class and do something that used to be in my weekly routine. Especially in these strange times!" Another participant simply stated, "AWESOME!"
It's clear that these virtual dance parties are the places to be—Rhodes-DiSalvo's class was Zoom bombed in the early days of moving to online sessions. "It was at first a bit fun because the Zoom bombers had dressed up in 1980s fitness gear and had disco balls in the background," she explained. Luckily, Rhodes-DiSalvo was able to quickly shut down the Zoom session and email participants a new meeting link. YP4H has also increased security through the registration process, and the Office of Distance Education and eLearning has published resources around Zoom security.
In these stressful times with limited in-person contact, it is important for us to maintain all aspects of our health. "I can't imagine a more important time for all of us to focus on physical and mental health and in physical activity in particular," said Rhodes-DiSalvo. "It can help us structure our schedules, meet new colleagues and friends (even if remotely), and maintain or sustain connections."
As a member of Ohio State's health plan, you can register for Zumba or other virtual fitness offerings through YP4H. There's something for everyone, and Rhodes-DiSalvo reminds us all that "it doesn't matter if you like to dance, if yoga is your peaceful spot, or if you run—exercise is part of maintaining physical and mental health."