URGENT Update to Zoom
Two vulnerabilities have been identified with Zoom, Ohio State's academic web conferencing service. These vulnerabilities create privacy and security concerns for Mac and Windows computers. We encourage all users to update as soon as possible via the below methods. 
For personal devices, it is strongly recommended that you re-download the "Zoom Client for Meetings" from Zoom (https://support.zoom.us/hc/en-us/articles/207373866-Zoom-Installers) or follow the instructions when your Zoom client prompts you to update. It is also best practice to set your mobile apps to update automatically, although they are not affected by the current vulnerabilities.  
The Office of the Chief Information Officer (OCIO) is patching all managed Mac and Windows computers, beginning today at 6 p.m. If you are one of OCIO's managed customers, you will receive a prompt like the ones below to reboot your machine. The reboot will close out any active Zoom sessions. You may delay the reboot temporarily, but it is advised that you allow the patching to complete as soon as possible. 
Windows devices will receive the below prompt to install immediately. If snoozed, it will pop up again and must be installed within the next 2 hours. If no initial action is taken within 2 hours, the update will force install.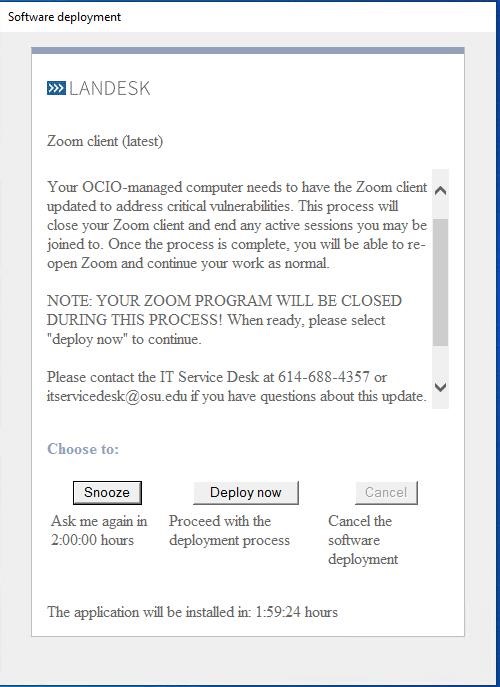 Mac devices will receive the below prompt to install immediately. If delayed, it will force install after 6 p.m. on Friday, April 3 if your device is powered on and connected to the internet.