Educators and Students Learn Together With Digital Flagship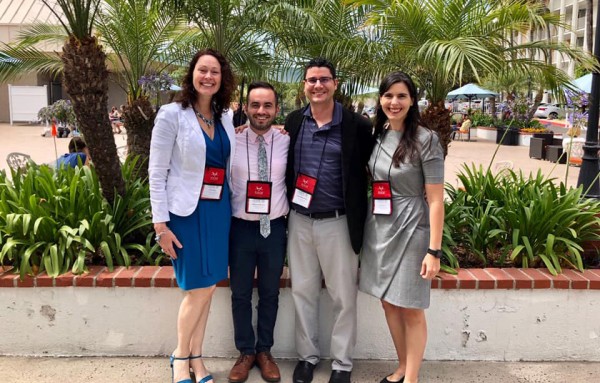 As iPads become a common sight in classrooms across The Ohio State University, it's not just the students who are learning with them; educators are also getting new insights into how a common technology can change the way they teach.
A group of educators in the Department of Spanish and Portuguese has been at the forefront of this learning experience. Assistant Language Program Director Richard Henricksen and graduate teaching associates Anthony Palmiscno and Leila Vieira applied to and participated in the initial 2018 Digital Flagship Educators cohort.
Learning Together
Members of the cohort are provided the same devices as students, but before jumping into teaching with their new technology, the educators had to be willing to learn. The cohort program also included training with Digital Flagship staff, which covered topics from basic technology features to digital literacy.
Henricksen said simply observing the Digital Flagship team teach using their iPads "opened up so many possibilities" for how he would use his own device in the classroom.
The training also gave these educators the opportunity to put themselves in a student's shoes. They made projects using Adobe Spark, Clips and other apps students gain access to through Digital Flagship, which prepared them to bring these projects into their own classrooms.
"I had to do it, so now I feel way more comfortable telling my students to do it," Vieira said. Knowing the amount of effort that goes into each project has caused her to break up major digital projects into more manageable daily assignments for students.
The training also opened their eyes to aspects of the student experience they hadn't considered before, like students who aren't technologically savvy.
When it comes to technology, "we assume students automatically know how to do everything, but they don't," Palmiscno said. The training made him realize that students may need more guidance on how to use apps or even the device itself.
For Henricksen, the solution was leading by example. "I had to model the behavior by projecting my iPad on the screen and showing them where I was going," he said, rather than expecting students to figure it out on their own.
Palmiscno said both students and educators need to exercise patience as technology becomes more prevalent in classrooms. "This is a learning process for everyone." 
Beyond the Classroom
Access to technology has offered opportunities to extend learning even outside the classroom, which helped win over Language Program Director Holly Nibert.
Nibert said she's always looking for ways to encourage students to practice speaking Spanish, but "classroom time is always a limitation, especially for online." Adding more speaking practice as homework can burden educators with the task of enforcing the assignment.
Enter Flipgrid, an education-focused app where users can upload videos to a virtual classroom space. The educators use the app to pose a question, then students post their video responses in Spanish. It's the discussion board brought to life, complete with colorful emoji stickers.
"It's almost like a conversation," Nibert said.
"And it didn't take time out of class," Palmiscno added, "so we could use class time for other things."
Vieira turns a familiar practice, taking photos and uploading them for others to see, into a learning opportunity with the collaboration app Padlet. Students add captions in Spanish, practicing their vocabulary and connecting with their classmates through likes and comments.
Digital projects created with university-provided apps also reach beyond the classroom in other ways.
Students are "creating a project that they're wanting to share and able to share," Henricksen said. "They can put a link to those on a resume if they want to."
Next Steps
In addition to offering more immersion courses in the future, the team will also be sharing what they've learned with other educators. Having already presented at the summer 2019 conference for the American Association of Teachers of Spanish and Portuguese, they'll attend the Mellon Language Colloquium on November 16 to present again. There educators will once again play the role of student, as the Ohio State team shares their insights with language programs at other colleges.
To stay updated about educator cohorts, subscribe to Digital Flagship's educator newsletter.