Wireless Coverage Expands to Ohio Stadium, Extension Offices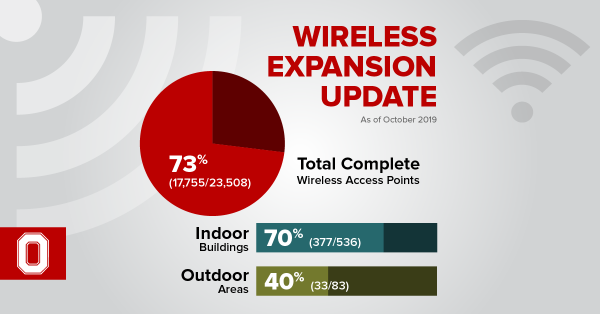 Ohio State's Wireless Expansion Project is making major strides, with 73% of total access points complete as of October 2019. Wireless services are now covering Ohio Stadium and reaching out to extension offices in counties across the state.
A major milestone for the wireless project was installation of access points (APs) in the iconic 'Shoe in time for the first football game of the season—and the networking team in the Office of the Chief Information Officer (OCIO) delivered. Over 2,000 APs were added inside Ohio Stadium between January and August in preparation for the home opener on August 31. During that first game, the wireless network transferred 13.3 terabytes of data. To put that into perspective, the only sporting events that saw larger volumes of wireless activity were Super Bowls and NCAA Final Four events, according to an article from Mobile Sports Report. During the October 5 game vs. Michigan State, the amount of wireless traffic almost doubled to 25.6 TB.
Outside Ohio Stadium, Ohio State's wireless networks see a whopping 190+ TB of data transferred per day across 160,000+ unique devices. With more devices concurrently connected to wireless, more APs are necessary. As of October, 17,755 APs are active, with nearly 6,000 more expected to be complete through 2020. Indoor buildings are 70% covered, while planned outdoor spaces are 40% complete. Expanding wireless coverage outdoors can be a challenge, but groundwork (quite literally) is underway before the soil freezes. Drilling and boring will take place this fall in preparation for outdoor AP installations during spring semester.
AP installs at extension offices across Ohio counties are halfway finished as well. Many Ohio State extension offices are located in rural areas with limited connectivity. Bringing these areas up to speed helps them stay in touch with their partners across the state.
In addition to breaking ground for outdoor access points and traveling across the state to expand wireless to our extension offices, the networking team is also working to finish AP installation in the Schottenstein Center. This event space is slated to be complete by the end of the calendar year.
As if adding thousands of new access points wasn't enough, the OCIO networking team is also working behind the scenes to update existing equipment. Technicians have been routinely upgrading access points and routers in an effort to strengthen the core network and prepare for the ever-increasing demand on our networks.