Presenters Announced for ExamSoft Showcase November 13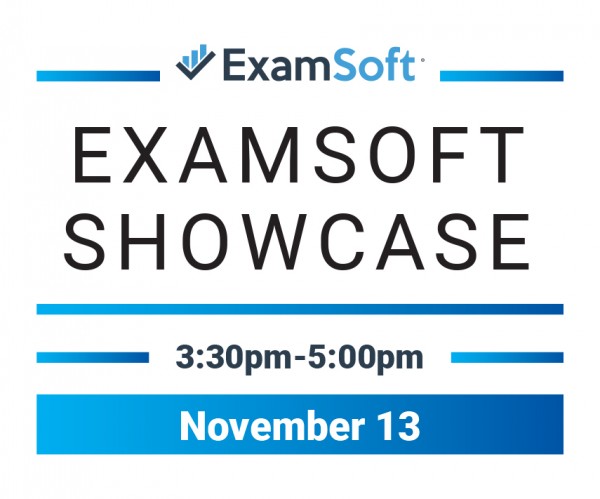 Please join ExamSoft on Wednesday, November 13, from 3:30 to 5 p.m. in Campbell Hall 100 for the ExamSoft Showcase. At this event, you will hear from Mike Horgan, Program Manager for Evaluation and Assessment in the Office of Biomedical Education at The Ohio State University College of Medicine, and Allison Case, Director of Education and Assessment for ExamSoft.
The ExamSoft Showcase will include:
Networking Expo
"A Day in the Life"
Computer-based testing empowers faculty to not only administer secure exams, but also to harness the power of data to transform teaching and learning. Allison Case will walk you through a "semester in the life" of a faculty member using ExamSoft. Hear how exams for an entire semester can be written at the click of a button, how data and analytics can tell you whether you wrote a "good" test or if your test has been compromised (Did last year's students gift your exam to this year's? Is your exam  now posted online for all to see?). Hear how ExamSoft's advanced reporting features can inform your teaching, facilitate student feedback and remediation, and take a lot of stress out of accreditation. This presentation will inspire faculty to work hard and smart as they embrace the next generation of tools in effective education.
"What a Little Tagging Will Do for You"
Tagging assessment items with basic information (like content area, author, curriculum learning outcomes and assessment) allows for robust analysis and generates a wealth of data from which to make decisions regarding student learning/mastery, category performance, licensing/step 1 readiness, teaching effectiveness, and more. Tagging items with categories also opens the door to evidence-based teaching. Creating a category structure and implementing tagging basics are the starting points for robust, data driven decisions about teaching and learning that benefit everyone. Join Mike Horgan from the College of Medicine as he shares the new insights available to the College of Medicine, its students and teachers made possible by item tagging and analysis.
General ExamSoft Getting Started Q&A

ExamSoft is a digital learning platform that can enrich the assessment process. The suite of exam solutions allows educators to create, administer and grade exams while helping ensure academic integrity. The easy-to-use reporting and analytics tools can also help improve both course and student performance. Learn more about the benefits of using ExamSoft.
Register now to learn more about this new eLearning tool available at Ohio State.
Allison Case is the Director of Education and Assessment for ExamSoft. She consults with clients on their assessment and accreditation needs as part of ExamSoft's EAS+Y assessment consultations services. Prior to joining ExamSoft, Allison was a faculty member for six years and the Director of Curriculum and Assessment in the bioengineering department at the University of Texas at Dallas. Allison has a BS in mechanical engineering from the University of Texas at Austin and a Ph.D in biomedical engineering from UT Southwestern Medical School. She is currently research active on an NIH R01 investigating multifunctional ionic liquid coatings to modulate the immune response to dental implants.
Mike Horgan is the Program Manager for Evaluation and Assessment in the Office of Biomedical Education at The Ohio State University College of Medicine.