ExamSoft Digital Assessment Process Enriches the Student Experience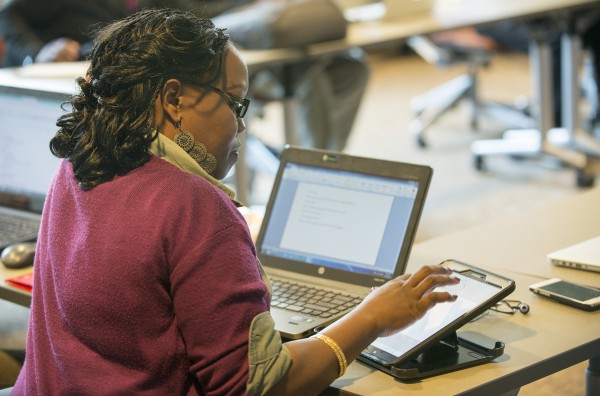 In the coming months, Ohio State will launch ExamSoft to provide integrated learning technology for wide-reaching, high-impact initiatives that transform learning. This tool is available at no additional cost to units.
As leaders within both the education and education technology industries, the Ohio State University and ExamSoft have collaborated to advance digital assessment practices over the past eleven years. Our university-wide partnership with ExamSoft will help level the playing field for all students.
Offering ExamSoft to The Ohio State University community provides:   
ExamSoft's suite of software provides a powerful solution for high-stake assessment needs, making in-class testing an easier and more efficient process for exam creation, exam delivery, grading and recording scores. Item banking can be used to create a repository of test questions with learning objectives.
Using an Ohio State username and password to authenticate, faculty and students can utilize ExamSoft's locked-down testing application, Examplify. This provides a secure and stable in-person exam environment free from the reliance on Wi-Fi.
Faculty can extract robust, real- time reports to provide performance feedback to students, faculty and administrators by "tagging" exam items to specific learning objectives.
Providing the world's only secure testing application for the iPad, Examplify creates a secure and easy way for students to take an assessment on a familiar device type.
ExamSoft's offline testing makes it possible to test an unlimited number of students simultaneously, providing a more stable in-class testing experience without the fear of losing content due to Wi-Fi connectivity.
ExamSoft integrates with CarmenCanvas to facilitate account creation, roster updates and grade syncs. Shibboleth integration allows users to use centralized account information managed by Ohio State.
Student Retention and Remediation
By providing students with real-time, actionable feedback on performance, other schools have seen a dramatic decrease in drop/fail/withdraw (DFW) rates. If Ohio State can target struggling students with intervention sooner, there is a better chance of helping these students improve performance and experience.
Tracking for Accreditation and Programmatic Performance
Embedded assessments allow faculty to not only track and improve student and program performance, but also makes it easier to provide evidentiary data to accrediting organizations.
Technology plays an important role in supporting each of the five pillars of Ohio State's strategic plan. Our plan describes Ohio State's aspiration to be a leading national flagship for public research. ExamSoft will help us get there by furthering the university's strategic focus on "adopting innovative, at-scale approaches to teaching and learning to improve student outcomes" as well as its overall efforts related to access, affordability and excellence."
To learn more, contact us at examsoft@osu.edu to schedule a training or for questions about ExamSoft.