CarmenZoom Reaches Beyond Ohio State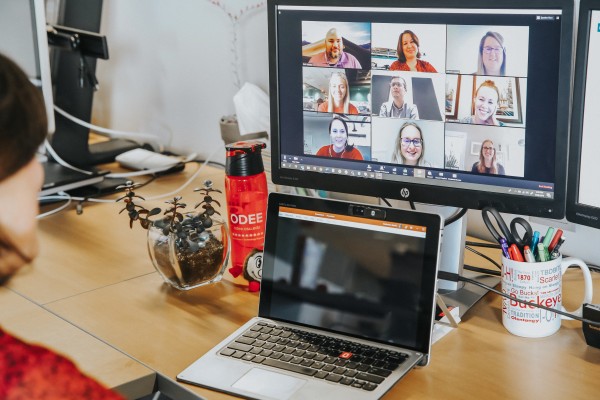 This year, the Office of Distance Education and eLearning (ODEE) introduced CarmenZoom to its eLearning toolset. CarmenZoom isn't just great for academic web-conferencing--it's also perfect for staying connected with friends and family outside of Ohio State. Keep reading to learn about some of the highlights of using CarmenZoom to keep in touch with people back home.
No iPhone, No Problem
It's so convenient to FaceTime a family member when you both have an iPhone. But what about when half the members in your family have iPhones and the other half have Androids? That's okay! You don't need to have an iPhone for this video chatting platform. With CarmenZoom, anyone can hop on a call with any device! The Zoom app lets you chat via iOS and Android devices, and anyone can connect from a desktop or laptop computer.
You Don't Need to Have a Mobile App
There are plenty of video chatting apps you can download. What if your grandparents don't have a smartphone? Maybe your grandparents only have a computer to read the news or check emails? Luckily, you don't need a smartphone to use CarmenZoom. Join a call by just clicking on a meeting link in your browser! The link will prompt you to install the desktop version of Zoom. So, schedule a time to email that link to grandma when you're both free to chat.
Screen Sharing
There's something so exciting about sharing photos with friends and family. Remember when you used to print out photos and put them in a photo album, then show them off? Create a digital album on your laptop or desktop computer, then use the screen sharing feature on CarmenZoom to show family and friends over video chat.
Do you have a family member who's not on social media that's begging to see your vacation pictures? Or maybe you don't want to post every single picture on Facebook? Use the screen sharing feature to show off your photos without having to post them online.
Or maybe you're working on a blog post and you want your best friend to read it over before you publish it? It's easy to peer review when you're in the same room; not so much when you live five states away from each other. Try the screen sharing feature on CarmenZoom to show them exactly what you're working on.
Group Calling
Get your entire family on a video call! CarmenZoom can hold meetings anywhere from 2 to 300 participants. Your typical family group call might not be 300 people deep, but you could actually hold an entire family reunion over CarmenZoom! Send your meeting link in the family group chat and get everyone connected in a Brady Bunch-style video call.  
Remember Grandma who might not have a smartphone or webcam for her desktop? She doesn't have to miss out on the family fun! There are even options for non-smart phones to join in for an audio call!
---
Ready to try it out? Head to https://resourcecenter.odee.osu.edu/carmenzoom/meetings-overview to learn more about the features of CarmenZoom meetings.