Technology Furthers Learning Objectives in Psychology 1100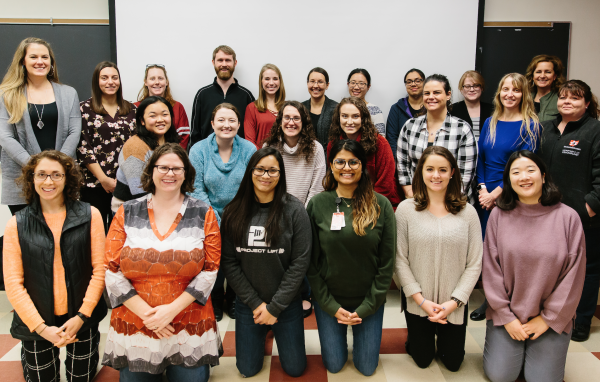 Utilizing technology in the classroom is often seen as an all-or-nothing endeavor. Traditional narratives suggest that you're either using technology at all times or your class is going analog. But, if you ask Melissa Beers, Ph.D., program director of Introduction to Psychology at Ohio State, that type of thinking is a trap. When she began exploring how Psychology 1100 courses would integrate technology, she took a different perspective.
"Learning is not about doing one thing; it's about accommodating many different strategies," said Dr. Beers. "As an instructor, you want to always be thinking about the best way to accomplish your learning objective—sometimes that could involve technology and sometimes it might not. But teaching should really be about the learning objective and not just about the tools."
With this guiding principle in mind, Introduction to Psychology courses in Spring 2019 took a new, strategic approach to technology integration in their sections, moving forward with a blended model that made room for customization by individual instructors. The process began when 21 Introduction to Psychology instructors—teaching nearly 1,000 students—received technology and training through the Digital Flagship Educators program in January, 2019. Then it was off to the races.
Unique Learning Objectives = Unique Approach
Introduction to Psychology has the highest number of enrollments of any course offered within the department. It's taken by a wide range of students – many of whom don't plan to major in psychology. These students are by-and-large in their first year of college, new to the academic rigors of college and unfamiliar with navigating larger class sizes. 
"Introduction to Psychology is usually a foundational course that many students take at the beginning of their college career," said Dr. Beers. "We try to help them see how the things they are learning in psychology translate into skills that can help them be effective students and professionals."
Psychology instructors began noticing first-year students coming to class equipped with iPads in Autumn 2018, the first year of Digital Flagship device distribution to incoming students. Going into Spring 2019, they knew that this changing landscape brought new possibilities to add digital skills to the scope of professional proficiencies they hoped to share with students. 
"If half of your students have a type of technology and you're not designing your materials with that technology in mind, that's a problem," remarked Dr. Beers.
But there was a catch. Every section of the introduction to psychology course was not comprised solely of first-year students—and requiring technology would limit the scope of students they could reach. To Dr. Beers, this meant that they had to take a more holistic, device-agnostic perspective,  taking into account the wide variety of devices students may bring to class. 
"We wanted to help students build skills to use their technology in effective ways, but we didn't want to limit that to a few sections reserved for students with iPads," said Dr. Beers of their decision. "It helped us have conversations with students about effective strategies to use technology in the classroom, not just conversations about how to do specific tasks on iPad."
Personalized Uses for New Tools 
Instructors were encouraged to introduce technology to their section in whatever way best met their learning objectives, considering the diversity of locations and formats offered for sections of the course. Some tasks – like giving all exams digitally using a lockdown browser, were implemented across the course. 
For several instructors in active-learning classrooms (spaces designed for increased collaboration and small-group work), this meant leveraging the tablets to interact more meaningfully with their students. 
"I was able to be a lot more mobile with my iPad because I could have my notes in my hand rather than having to be stuck to a computer," said Stoni Fortney, an instructor who participated in the training. "I feel like this helped me engage with the class more and keep them all interested rather than only really being able to engage with those close to a computer."
Instructors, such as Kristin Supe, Ph.D., used the iPads to encourage collaboration and community-building within the class. 
"I used the interactive 3D brain app for an in-class scavenger hunt," said Dr. Supe. "I provided them with a digital worksheet and asked questions about structures and functions that could be found in the app, and had them work together to explore and find answers. Students seemed to get a lot out of the activity, and I believe that doing this collaborative activity early strengthened the community in the class throughout the semester."
In addition to individual interventions, Dr. Supe remarked that instructors who had participated in the January training took the opportunity to share strategies with each other throughout the semester, establishing informal best practices.
"We were able to talk about the best ways to post materials for ease of student access. We also talked about best ways to post comments and feedback on graded items so students on the app would be able to find and read them."
Student Voices 
At the conclusion of the spring semester, Introduction to Psychology students took a survey which asked them, among other things, how their iPad and technology affected their classroom experience. While only students eligible for the Digital Flagship technology kit completed this portion of the survey, it gives some preliminary insights into how the work done by instructors in Psychology 1100 is being received by students. 
Were students using their iPads to do work in class? Of those polled more than 82% cited using their iPads for checking Carmen, taking notes, completing homework and participating in in-class activities. 
"I was really struck by the extent to which they used their devices academically in productive and creative ways," said Dr. Beers. "Students really did some clever and creative things with the way they were taking notes, the way they were interacting with course material."
In the assessment, 85% of those polled agreed that the iPad has improved their learning experience at Ohio State and was useful in Psychology 1100. More than 70% of students responded that the iPad made them more organized or creative.
"My instructor posted guided notes before each lecture which I found crazy helpful to pay attention in class and also usefully use the iPad," commented a Psychology 1100 student in the survey.
In addition to this data, the Psychology department also gathered qualitative student feedback through the survey about what worked well in the sections and what students would like to see more of in the coming semester. Students mentioned a desire for more in-class activities using the iPad, greater file-type compatibility with their devices and increased integration with Carmen. 
Next Steps and a New Semester
With the feedback from the survey and a semester of experience, the Department of Psychology looks forward to continuing their research in the coming academic year, as well as building on the lessons learned with the next class of students. 
"I'm looking forward to growing and refining our strategies," said Dr. Beers. "Having the technology hasn't caused us to 'overhaul' our course, and I wouldn't say that anything is radically different. Rather, having iPads has helped us take a different perspective on some tasks, and it also helps us have conversations with students about how they use technology for learning. We want to keep studying these things and using our skills as researchers to evaluate the impact of the technology on learning in our course."
New Psychology 1100 instructors will be participating in the autumn 2019 cohort of Digital Flagship Educators, building off the work done in spring of 2019.
Learn more about the Digital Flagship Educators program and how students are using the technology to create new things and support their academic experience.