Your Design Could Be the 2019 Digital Flagship iPad Wallpaper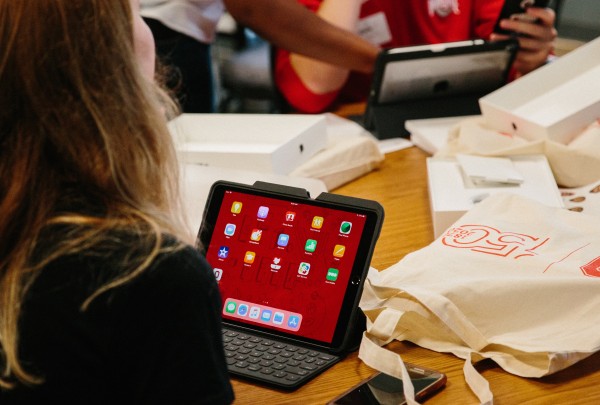 *Deadline Extended! Submissions accepted until Friday, April 5 at 11:30 p.m.*
When the newest class of Ohio State students boot up their technology for the first time, what image will they see?
The iPad wallpaper on all 2019 Digital Flagship iPads will feature the winning student-created design from our second-annual call for entries. This competition gives all students at the university with an art, design or photography interest an opportunity to have their work featured on the home screens of more than 14,000 devices distributed in the 2019/2020 academic year.
The winner will be awarded a $100 Amazon gift card, and the second place finalist will receive a $50 Amazon gift card. Both top designs, as well as three designs selected as runners-up, will be made available for download on the Digital Flagship site.*
Tips for a Successful Submission
Designs that focus on Ohio State themes, values and traditions will receive additional weight in the judging process, but all topics will be considered. We suggest checking out the winners from last year for inspiration. Many of these submissions focused on meaningful aspects of their experience at Ohio State. Submissions can be created in any medium so long as a digital representation can be submitted; digital designs, traditional mediums like oil paint or watercolor and photography are all welcome. Because the winning design will be displayed on an iPad loaded with apps, we provide a photoshop template to help you visualize what your submission will look like as a wallpaper image.
Please adhere to all copyright best practices and consult Ohio State brand standards if using university digital assets. Additionally, we encourage the use of campus resources such as the creative suite software available on all Digital Union computers. Staff at each Digital Union location are also available to help troubleshoot and guide your use of these programs.
To submit your design please complete the design entry form by 11:30 p.m. Friday, April 5 for review by the selection committee. Decisions will be released Friday, April 26. 
Additional guidelines:
Special consideration will be given to designs that focus on university values, themes and traditions.
Static images only. No gifs or videos.
All Ohio State undergraduate students are eligible to enter their designs. Faculty, staff and graduate students are ineligible.
All submissions must be appropriate for display. Designs that include vulgar, inappropriate or plagiarized text and/or images will be ineligible.
Image types accepted: PNG and JPEG.
File dimensions 2224 x 1668 (10.5 in iPad Pro).
Image Resolution: 264 PPI or higher.
A maximum of three design submissions will be accepted per student.
Complete the entry form by 11:30 p.m. Friday, April 5 to be considered for the 2019 round of selections. Please contact digitalflagship@osu.edu with questions related to this opportunity.
*While students will have the freedom to change the iPad wallpaper to whichever image they desire, we expect these images to be a popular choice.