Advisor Creates Flexible Degree Plans With Discover App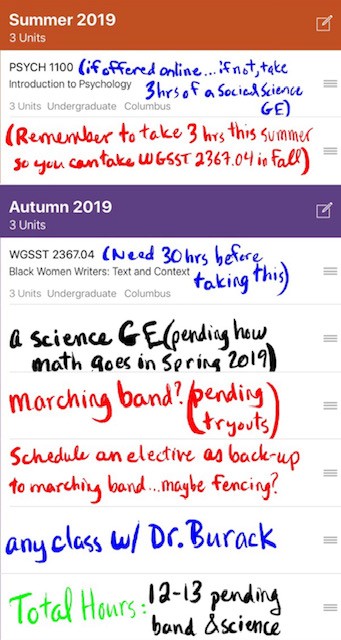 Academic advising is both an art and a science. You must navigate and understand course schedules and academic requirements as part of a successful degree plan. But plans can also change. Students may discover a new passion and add a minor or their degree paths may adjust as they switch campuses or majors. A good plan must be flexible to these realities. 
As an Ohio State Newark Academic Advisor, Max Gulick helps first and second-year students navigate it all; this year, using the course planner feature of the Ohio State: Discover app to simplify and add greater flexibility to these plans. Gulick participated in Digital Flagship Educators training in summer 2018 with advisors from all Ohio State campuses and has employed this training to better the advising experience.
Setting Course: the Basics 
When Max Gulick meets with students, his primary goal is to help them identify a path for their next semester so that they can schedule courses successfully. Prior to the Discover app, this could mean a barrage of papers and difficult-to-track notes following each meeting.
"The course planner tab is a game changer for us in advising," said Gulick. "Before the Discover app we would take a piece of paper and say 'next semester here are the four classes you need to make sure you get into' but if it's a piece of paper you hand it to them and it's gone and you have to remember what it was to put it in the [advising] notes – which you often can't get to until later if you have appointments scheduled back to back."
With the course planner tab, he now creates the plan digitally on the iPad using 'course search' to select courses and drag them into semester categories, easily sharing this with students and saving it to his advising notes.
"Even if a student comes in and doesn't have their iPad I can plan it out with them on mine and email or AirDrop it to them and then save it to their OnCourse notes," commented Gulick.
But even when setting this plan, he acknowledges that changes happen and utilizes course planner to adjust the schedule to meet new realities. 
"The fact that the course planner tab is malleable is super useful," said Gulick. "We take the plan and we can tweak it, so if we plan in the middle of fall semester to take your next math course but then we get to the end of the semester and math hasn't gone so well, that's okay because we can go to the app and change our plan for next semester. It lets us easily adjust to change." 
Personalized Plans: Writing Tool
App design is all about iteration, and this is true of the Discover app as well. In fall of 2018, Ohio State developers added the ability to write with Apple Pencil in the course planner, making use of a new feature in a recent iOS update.
"The writing adds to the course search functionality and gives you more flexibility," said Max Gulick. "When you make a class plan it's usually not as easy as 'my next class is this and then that' because your chemistry class next semester may depend on your math grade this semester, or which second-level writing you take depends on what's offered or what fits with your schedule. The writing allows us to just say 'a physical science', which is something I have my students do a lot, especially if they plan to change to the Columbus campus the following year. There are lots of different options and this lets them keep that open until the course schedule comes out."
In addition to students who plan to change campuses, many of the students Gulick advises take classes at Newark and Columbus concurrently. Using the new feature, they write in the campus for each of the selected courses. 
Gulick also uses the new feature to help students add reminders and contextual information to their plan, personalizing it for their needs.
 "Most of my students are applying to competitive majors and they will add a line to their plan reminding them to apply by the deadline," explained Gulick. "It keeps the deadline in their minds as they're scheduling and planning."
Planning for The Future: Plan 1 and Plan 2
While Max Gulick has changed a lot about his workflow with the Discover app, he and his fellow Newark academic advisors are always looking to improve the process for their students. In the upcoming year, he is looking to make greater use of the course planner feature that allows students to create two possible plans for their time at Ohio State.
"A lot of our students plan to apply to competitive majors, but because these tracks are competitive they don't always get in. There is more than one way to get to your dream job, you just have to find the best way to get there," asserted Gulick. "Next fall we plan to use the Plan 1 & 2 feature in our survey course to create an assignment where students build that parallel plan. We're trying to prevent students from having that 'now what?' crisis moment by making this parallel plan so they already have their next step ready to go."
Interested in trying this all for yourself? The Discover app is available for download on iPad through the Apple app store. Educators interested in the training and technology provided through Digital Flagship Educators are encouraged to apply for the next cohort. Applications will be available in May 2019.