InnovateX Keynotes Announced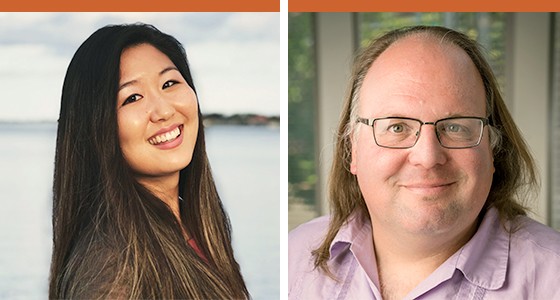 The 2019 Innovate conference is coming up on May 16. Presentation proposals have been collected and the theme has been released. We're celebrating 10 years of the Innovate Conference this year, and at InnovateX, we'll find new ways to excite students about learning, explore teaching opportunities outside the classroom and delve into the student experience.
Registration for InnovateX will open in March, but until then, learn more about our two keynote speakers who will dive deeper on the threads of exciting learners, exploring new opportunities and designing around the student experience:
Shauna Chung
Shauna Chung is a PhD student in the Rhetorics, Communication, and Information Design program at Clemson University. With a vested interest in and passion for digital literacy, she has worked with colleagues, administrators and faculty to develop media assets and learning modules for undergraduate and graduate students across disciplines. Her experience as a first-year composition teacher has also afforded her with opportunities to push and rethink the boundaries of traditional writing genres, to directly implement tenets of digital literacy into her curriculum, and, as a result, to involve students as active participants in the creation and dissemination of meaning through digital technologies. Post-graduation, Shauna hopes to continue working in the classroom, which is where her heart is and always will be. Check out Shauna's portfolio to learn more.
At InnovateX, Shauna will share her expertise around the benefits and challenges of digital literacy in the classroom.
Ethan Zuckerman
Ethan Zuckerman is Director of the Center for Civic Media, Associate Professor of the Practice, MIT Media Lab, and cofounder of the citizen media community, Global Voices. Prior to MIT, Ethan worked with the Berkman Klein Center for Internet and Society at Harvard University on projects focused on civic media, freedom of speech online, and understanding media ecosystems. He led the Media Cloud team, a project that archives news stories and blog posts in order to apply language processing and to analyze and visualize the resulting data, a project that continues on at the Media Lab. Zuckerman also founded Geekcorp, a non-profit technology volunteer corps that has done work in over a dozen countries, and helped to found Tripod, an early participatory media company. His book, Rewire: Digital Cosmopolitans in the Age of Connection, was published by Norton in 2013. You can follow him digitally at his blog, "My heart's in Accra," or on Twitter @EthanZ.
At InnovateX, Ethan will explore ways to motivate students toward social change by harnessing their mistrust of major institutions.
---
We're looking forward to welcoming these two enthusiastic presenters!
While you are anxiously waiting to register for InnovateX, why not share your past Innovate experiences? We're looking back over the past 10 years and want to hear from YOU! Did you make a long-lasting connection with another educator? Are you using what you learned at the conference in your courses? How has Innovate shaped your teaching and your students' learning experiences? Tell us all about it! We'd like to share your stories and memories at this year's conference, to help us set the stage for newcomers to the conference and remind the usual suspects how far teaching and learning have come over the years.