Journey to Career Readiness Begins with New Student Orientation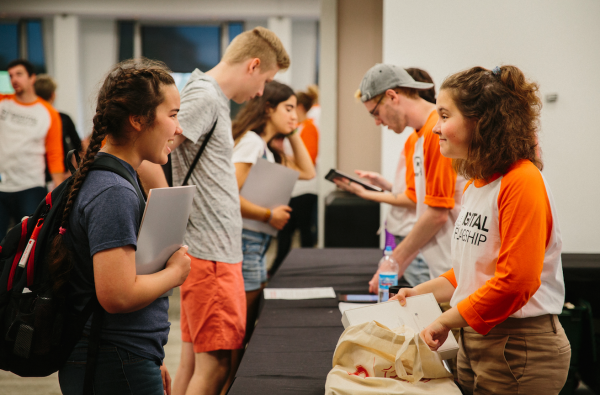 The Drake Union is bustling, full of incoming first-year students and their families arriving for their first day of orientation. This year, the already-exciting day includes another first for new Buckeyes: students and staff in brightly colored Digital Flagship shirts, guiding them through picking up their new iPad Pro and setting up the device, Smart Keyboard and Apple Pencil.
These technology kits are a component of Digital Flagship, a larger student success initiative to blend learning technology throughout the university experience and provide career skills and access to all Ohio State students. In addition to the technology that all first-year students will receive, all Ohio State students will have the opportunity to participate in coding curriculum and a new iOS design lab coming to campus. 
Out of the Box
For incoming students at Columbus campus, one of their first interactions with Digital Flagship is receiving their new technology kit, which they will immediately unbox and set up with the help of staff and students.
When excited students are guided down the hall to the set of rooms where they will receive their iPads, they first check in with Student Mentors such as Liz Webb, a sophomore studying Public Affairs.
"When they come in everyone is so excited," said Webb. "They are really looking forward to the devices and orientation."
Once students have their iPads, they head to a large room full of windows overlooking the Olentangy and take a seat at tables where they will set up their devices. They are then guided through attaching the Apple Pencil, setting up their Smart Keyboard and snapping on a protective case by Student Mentors and Ohio State staff. 
In his role, Visual Communication Design student Nick Romanowski helps students get their devices up and running and then guides them through the apps provided by Ohio State. Finally, he instructs each student to take a selfie that will become their lock screen for orientation.
"I've been part of many a lock screen selfie," laughs Romanowski. "Everyone has a lot of fun with it. Making it easier to identify devices during orientation is just an added bonus."
The process is designed to help students feel confident and prepared with their devices before starting orientation.
"The morning went very smoothly," Said Shannon McCalmont, a student attending orientation in early June. "I was assigned a person to help me set everything up. Everything was very organized and I'm excited to start playing around with the iPad and pencil."
This process will occur throughout the months of June and July on Columbus and Newark campuses. Over 2,000 devices have already reached the hands of students and by the fall incoming first-year students at all Ohio State campuses will have received their technology kits.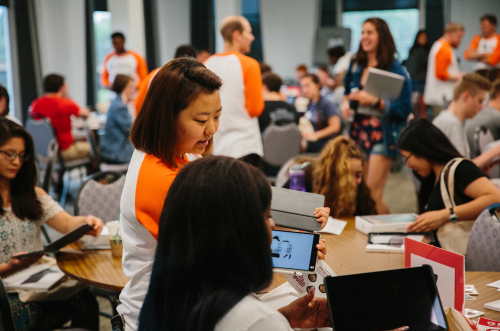 Student Experience at Orientation and Beyond
Once finished with setup, students reunite with their parents and begin their first day at orientation, but use of the iPads doesn't stop with setup. Peer leaders trained to use the iPads, a presentation about Digital Flagship and an office-hours style workshop are just a few of the ways that the devices are woven throughout the orientation experience. 
"Students use the iPads to take notes during sessions, take the College Student Inventory survey, and are able to download their favorite apps," said Jessica Phillips, Student Programs Manager for Digital Flagship. "Even their orientation schedule is on the iPad through the Discover app, which was created to connect students to resources, course planning and student organizations."
The Discover app is part of a suite of resources made available to students during and after orientation to help them not only use their device more effectively but also to connect to the Ohio State resources that will serve them during their time at the university.
"Throughout the summer, students are encouraged to use the Digital Flagship Handbook (an iBook downloaded to their iPad) to learn about all the ins and outs of using technology as a student at Ohio State in an effective and responsible way," said Phillips. "Students may also choose to take part in our 'App Challenges' in the Discover app. These challenges encourage students to complete activities using their iPads and apps, learn new skills, and be put into a raffle for a prize."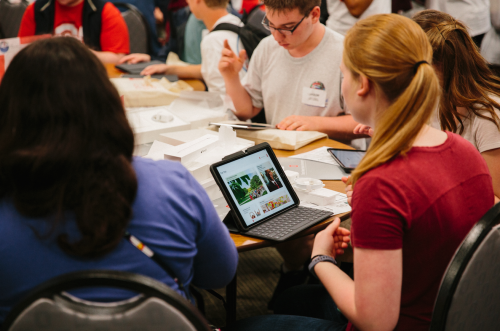 Preparing Instructors 
While student-focused iPad activities are available through these apps and more, instructors at all campuses have been receiving professional development through the Digital Flagship Educators program to leverage the devices in meaningful ways in their fall courses. 
"As more and more of our students have a common tool to support their learning at Ohio State, we'll have the ability to provide more low and no-cost digital textbooks, virtual advising and office hours, as well as tools for creative production and collaboration between students and with their instructors," said Liv Gjestvang, Associate Vice President of Learning Technology.
Learning and Life
Beyond coursework, Digital Flagship leaders are preparing to use the devices to help students learn to balance technology in their lives. 
"We know that technology can help us with learning, research and creative work. We also know that technology can create significant challenges in our lives. This initiative is committed to helping our students think about when to pick up our technology and when to put it down," said Gjestvang. "The university is working to provide resources that support civic engagement, mental and physical wellness, financial literacy and digital literacy among a whole host of other life-skills."
The iPad kits that are going out this summer and fall are the first step in a much larger initiative. 
Learn more about Digital Flagship and sign up for updates in order to stay connected to news and opportunities.