Tactics and Techniques for Managing Change
The College of Food, Agricultural, and Environmental Sciences (CFAES) is is partnering with OCIO and ODEE to transform IT services for CFAES faculty, students and staff. Once the transformation is complete, CFAES will receive core services from the while focusing their own technological resources on their very unique research needs.
As the brand new Marketing Communications Strategist dedicated to Managed IT Services customers, I started my second day on the job by diving into the PROSCI Change Management Certification training with my new colleagues.  Members of the CFAES, ODEE and OCIO teams who are collaborating on the IT Transformation Project spent three days offsite learning a people-centric approach to change management.
How do we navigate change within an organization while focusing on the impact it has on individuals? This is what the PROSCI course is all about. Throughout the training, we were given assignments individually, in small groups, and talked about many concepts as a team, with the focus always being on this IT transformation project. A lot of our discussions revolved around the varying perspectives team members had depending on their responsibilities within the project, but also on the similarities everyone saw. On the final day, four small groups presented our suggestions for an approach to change management for this project to a small panel of OCIO and CFAES representatives. Strong sponsorship for the change, consistent evaluations of how impactful this change is going to be on the organizations, and a need to implement a more proactive approach to change were key takeaways from each presentation.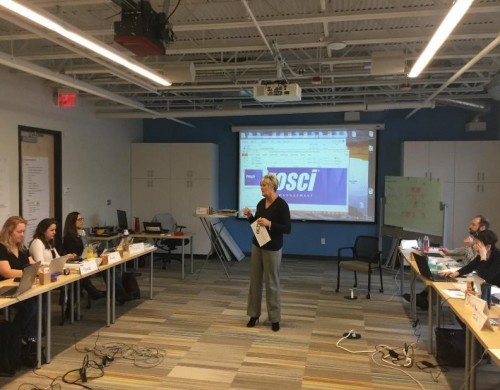 One of the most interesting things I learned as a 'newbie' in this training was that these two departments had already been focused on the people. The change management training helped teach new tactics and approaches to handling this transition, but it also reaffirmed that every person working on this project is committed to finding the best outcome for the individuals who are being impacted. 
For me, the PROSCI training wasn't just a crash course on change management; it provided an in-depth introduction to what this project entails and gave me the opportunity to really get to know my new co-workers within both departments. The spirit of collaboration is alive and well as this transformation continues, and I'm looking forward to being a part of it.