New Podcast Studio in Hagerty Hall Available Now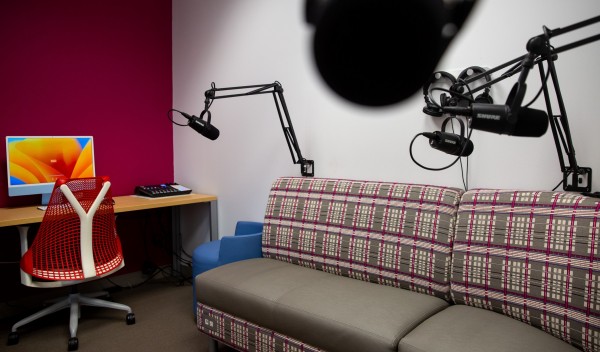 As part of our continuing efforts to respond to the needs of our users, the Digital Union: Work Studio in Hagerty Hall has added a new podcast studio for students, instructors and staff. While the Digital Union already has an audio studio at the Digital Union: Recording Studio located in Denney Hall, that space was designed primarily for the recording of music. After seeing an increase in usage for podcast recordings, and realizing the existing space in Denney was too complex for that purpose, the decision was made to convert an underutilized web conferencing room in Hagerty into a purpose-built podcast studio.
The new podcast studio features comfortable seating in a conversational layout, and wall-mounted microphones and headphones to reduce setup time. The room accommodates up to four podcast hosts comfortably. For a more complex recording, we recommend considering having an additional person on hand to act as a producer and run the mixing board and recording software.
The podcast studio features a Rodecaster Pro mixing board that is intuitive and enables users to include sampled sound effects, set all levels for individual speakers in the recording, and use Bluetooth connections to take listener calls and include music from their mobile devices. The audio is then sent to the software on the in-room computer, where the resulting podcast can be edited and exported and stored.
To access the new podcast studio, please call the Digital Union: Work Studio in Hagerty Hall-Room 171A at (614) 292-0743 to reserve a time during our open hours of Monday-Friday 8am – 5pm. Staff is on hand to help get you started with the space.
Digital Union Offerings
The Digital Union's mission is to increase access to technology for all Buckeyes for class and personal projects. In addition to the podcast studio, check out our other DU offerings at all our locations:
Digital Union: Work Studio in Hagerty Hall 171A

Digital Union: Work Studio in Stillman Hall 145

Digital Union: Recording Studio in Denney Hall 063

Digital Union: Prototyping Studio in Enarson Classroom Building
Visit our website to find a complete listing of features at each Digital Union location.