Tactile Images Provide Low Vision Visitors Access to "Meditation Ocean" Exhibit at the Wex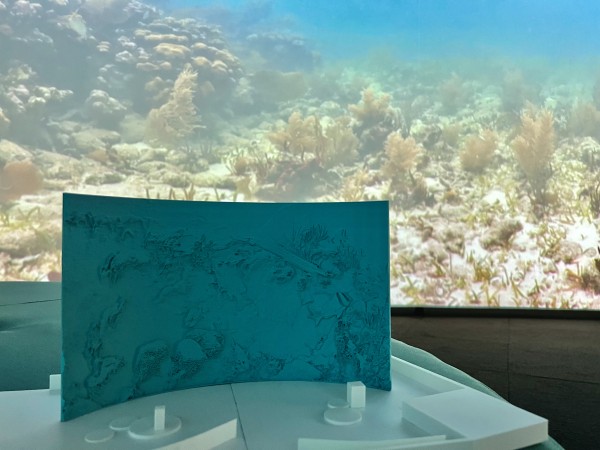 Since its inception in 2015, the Digital Union's 3-D printing program has helped bring hundreds of student and faculty designs to life. They have printed a host of items, from academic projects, to teaching models – and have recently created multiple models that will accompany artwork.
A new Wexner Center for the Arts multichannel video installation entitled Meditation Ocean will include "tactile images," or "tactiles," which are 3-D models that provide a touchable format to shape sensory perception beyond sight and allow visitors with vision-based disabilities to experience the exhibit and allow everyone else to engage with the work in a unique way.
Meditation Ocean was conceived and directed by Hope Ginsburg, the culmination of her two-year Artist Residency Award and a decades-long relationship with the Wex. Meditation Ocean is a collaborative project of the Meditation Ocean Constellation, which is comprised of artists, writers, educators, meditators, musicians, curators, divers, and scientists.
To create the prints, the Accessibility Manager for the Wex, Helyn Marshall, worked with Amy Spears Office of Technology and Digital Innovation's Digital Union and Classroom Support Lead, and OTDI student employee Dustin Mostoller, a senior in Aerospace Engineering.
The project with the Wex dovetailed with Dustin's personal project creating lithopanes. Lithopanes are depth maps that use the change in material thickness to admit different amounts of light to show image detail. He shared his work with other DU staff, who shared it with staff at the Wex. The cross-disciplinary collaboration led to amazing results!
"My goal was to pull enough texture and detail from the original still images pulled from the videos while still preserving the artists' intent and meaning behind the work, so it was delicate game of making small but meaningful changes to the original 2D images," Dustin said.
"By offering an alternative way to experience the message and environment of the exhibit to somebody who might not have been able experience it otherwise, we can create more accommodating and enjoyable experiences for everybody. I think art is a great way to bring people and communities together and I hope that through this project I was able to give other people access to experience more of what this exhibit has to offer!"
The 3D models took upwards of 100 hours to print from filament that is biodegradable, derived from corn, to align with the artist's sustainability theme. Visitors experience the first tactile at the start of their journey, interacting with a 3D model of the entire exhibition space. In addition, Digital Union 3D printers produced models of the exhibit's central pieces, enabling patrons to touch 3D models and feel the topography of the images of underwater scenes including coral reefs, tropical fish, and scuba divers sitting on the ocean floor and rising with bubbles of exhaled breaths taken during meditation.
The collaboration spun up quickly because of our collective commitment to Ohio State's vision and values. OTDI has been focusing on projects that provide value to the diverse population the university serves, taking into consideration varying abilities of hearing, movement, sight, and cognition. The Wexner Center for the Arts has a strong commitment to accessibility – hosting inclusive, accessible events that enable individuals with disabilities to engage fully in its exhibits, programs, and events, in both digital and physical realms of experience. The synergy of the partnership created truly inspiring results.
Use our online request form to get started creating your own 3-D prints at the Digital Union Prototyping Studio in Enarson 021. Learn more about the process and requirements on the 3-D printing resource page.