Renovation to Enarson Digital Union Expands Opportunities to Create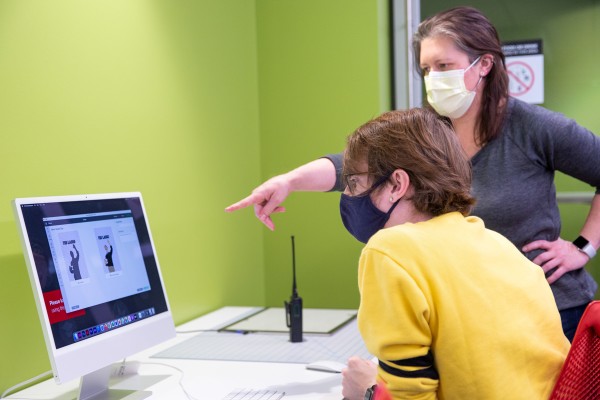 New tools available at the Digital Union in Enarson Classroom Building 012 inspired the location's updated name — Digital Union: Prototyping Studio.
Renovations to the Digital Union: Prototyping Studio completed in 2021 were designed to provide access to basic fabrication tools to everyone at The Ohio State University at no cost. 
The renovations also included hard flooring, new workspaces, new iMacs, and a better layout for working on projects.
The equipment and materials on hand have been selected to help in prototyping or iterative design of physical objects. For example, an item could be cut out of cardboard, assembled, tested, and redesigned before being produced in another material or on a larger scale.
Though other spaces on campus may have more specialized or advanced equipment, they are often available only to those in a particular department or taking certain courses. Digital Union locations are available to all members of the Ohio State community.
In addition to 3D printing, the Prototyping Studio now includes:
a Cricut Maker for cutting, engraving and perforating on adhesive vinyl, paper, cardboard and more
a Glowforge Plus laser cutter which can do laser cutting and engraving on more durable materials
tools and supplies for refining objects, cutting mats, light table, glue guns, sandpaper
plenty of workspace
staff trained to assist in the design and construction of these projects
Some equipment is available for direct use, and some — such as 3D printers and the laser cutter — is restricted to use only by Digital Union staff. In those cases, you will submit a digital file and our staff will let you know when your item can be picked up.
When you arrive at the Digital Union: Prototyping Studio, feel free to check in with our staff on duty if you have questions or need help getting started. They can help you locate any tools you might need, and can assist you in setting up cutting files for the Cricut or the Glowforge.
While no appointment is necessary to use the Digital Union: Prototype Studio, you may wish to set up a consultation if you need guidance in beginning your project. To do so, stop by in person or call 614-292-4768.