Tune Into Mediasite Channels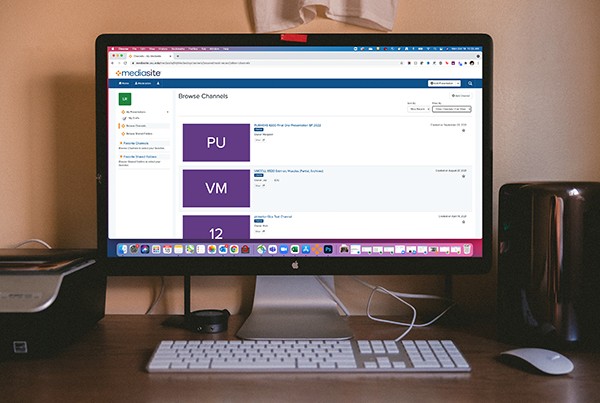 As an instructor at Ohio State, you might be using Mediasite to share videos and presentations with your students—but have you tried organizing your content into Channels? You can create Channels directly in the MyMediasite portal, and Channels allow you to share a group of presentations with just one URL. Think of Channels like your own personal playlists to use in your courses! 
"Channels are very easy to set up," said Jay Hsiao, an instructional designer in the College of Veterinary Medicine. "I typically link a Channel to a folder, which takes no time at all." 
Mediasite currently offers a different organizational feature called Catalogs, but this feature will be retired after autumn semester in favor of the more robust Channels. 
"I like how many more options are available in terms of player and channel options," Hsiao continued. "Channels also look more appealing and are similar to video sites students would be familiar with." 
In addition to the ease of setup and more modern user interface, Channels also provide more engagement options compared to Catalogs. With Channels, you can enable discussions and comments on your Mediasite content. You can add annotations for your students and create a discussion around a specific point in a presentation. Your students can also search for a keyword within your channel to find all videos and presentations with that word either on screen or in the captions. To give students even more flexibility in how they view your content, you can allow students to download items from your channel. 
---
If you are currently using Catalogs to organize your Mediasite content, please be aware that this feature will be retired later this year. All existing Catalogs will be updated to Channels before the start of Spring 2022. Explore the capabilities of Channels today!