New Features Added to Ohio State App for iOS 15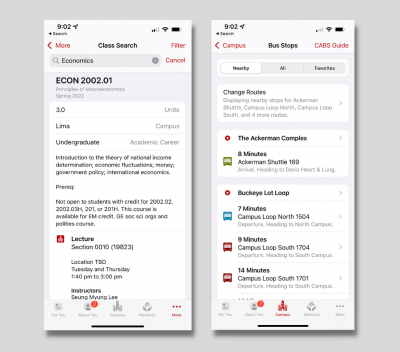 Check that your Ohio State mobile app is updated to see new features and improvements to the app's layout. With the release of Apple's iOS 15, we've added additional features and upgraded designs to make your campus experience even better.
New layouts and minimalist designs have been implemented all across the app to fit with standards for iOS 15. With improved readability, you'll find it easier to locate and use the features you rely on in Ohio State app, like bus routes, safety information and the class schedule screen. The class search feature puts all the information you need, such as location and instructional method, in one place.
After updating the app and logging in, students at regional campuses will now see information specific to their campus. Screens that don't apply to your campus will be hidden, so you can get to the information that you need faster. Safety contacts are also filtered by location to prioritize the ones closest to you.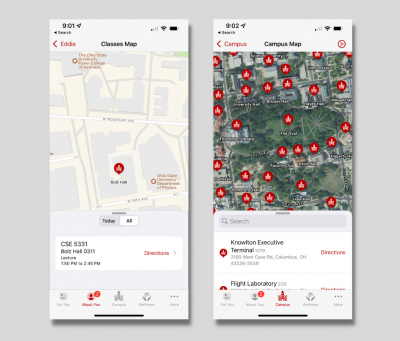 A new satellite view is available on the campus map and additional building pins have been added to make sure you're getting a complete view of campus. Building details will now show nearby bus stops to help you find transportation.
Students will also find a map of their current classes on the About You tab to make those first days of the semester less stressful. In addition to finding your new classes, you can check for dining options or study spaces on your way to take advantage of downtime.