Digital Union in Denney Hall Gets Upgrades, Including Additional Video Studio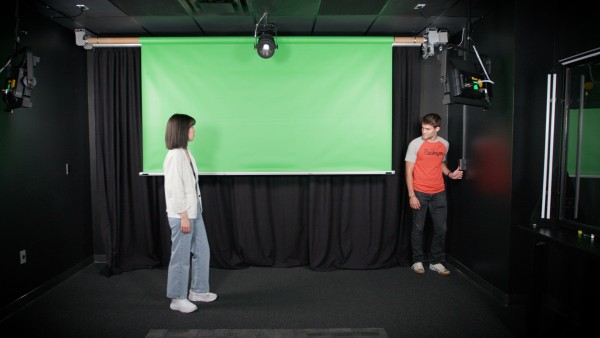 The Digital Union location in Denney Hall, now called Digital Union: Recording Studio, now has two video studios available to The Ohio State University community.
The Denney Hall Digital Union location has long offered professional-level video and audio studios. In the last year, the location's video studio capabilities have been expanded and streamlined for ease of use. The new, smaller video studio features single camera recording, wireless control of lighting and audio settings, and immediate file transfer to a server. In addition, the existing larger studio was retrofitted with new technology, upgrading its functionality to match the new studio.
"Having two studios increases the capacity of the Digital Union: Recording Studio to support faculty who are producing video lectures for delivery in online, hybrid or flipped courses," said Stephanie Orr, director of learning experience for the Office of Distance Education and eLearning (ODEE), which manages the Digital Union locations. "COVID-19's ongoing effects continue to make flexibility of delivery of course content a necessity, and these studios will help instructors produce professional-looking content quickly."
Having two studios with the same functionality allows the Digital Union: Recording Studio to serve more of the campus community without the need to prioritize who can reserve video recording space during times of high demand.
With upgraded lightboard functionality in both studios, you can easily create lecture notes or sketches live, similar to how you would present with a whiteboard or chalkboard. The studios automatically flip the writing, so it's readable to the viewer without additional editing.
The studios also allow you to appear as a picture-in-picture or against a green screen, allowing you to insert lecture slides or other media and remain onscreen in the finished video. After recording, you can save your footage to a storage device or transfer it directly to Microsoft OneDrive. Then you can edit your video from your own computer or a computer in one of our other Digital Union locations.
To get started with the video studio, you can make a reservation by calling the Digital Union: Recording Studio at 614-292-3654.