Ohio State students design wraps for soundproof pods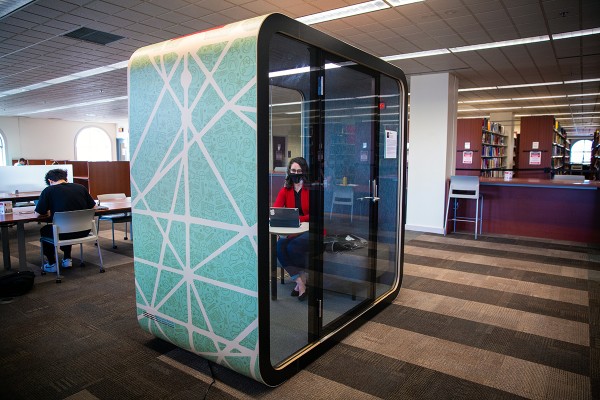 You may have already spotted them on Ohio State's Columbus campus: two colorful, soundproof pods are drawing lots of attention in Smith Laboratory and in the 18th Avenue Library.
But unless you've gotten close enough to read the plaques on the clear glass doors, you may not know that the eye-catching wraps on the outside of the booths are the work of Ohio State students, Aurora Albertone '22 and Sarah Releya '22, two students from Design 4102 Intermediate Interior Design, taught by Rebekah Matheny.
Albertone and Releya were winners of a local competition hosted by the furniture company, Herman Miller to create designs for the soundproof pods, which are called the Framery O and Framery Q. Herman Miller donated the units, exterior wrap, delivery and installation to the university. 
The competition to design wraps for the Framery pods took the place of the Big Ten Student Design Challenge this year, when the usual trappings of the challenge — including a trip to Herman Miller headquarters for the three finalist groups — were out of the question due to the COVID-19 pandemic. The fact that the Framery units themselves promote distancing was a bonus.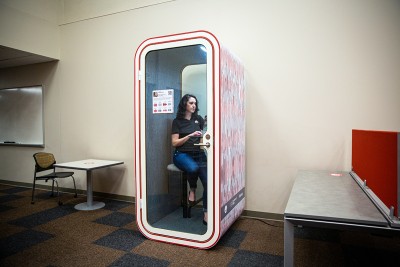 "The original intent of the design challenge was to give students a unique opportunity to leave their creative mark on campus," said Ingrid Dent, Herman Miller's Ohio State representative. "In the end, the challenge did provide additional spaces on campus for students that support…distancing." 
Releya's design for the Framery O, the one-person booth located in Smith Laboratory, features what appear to be random lines in scarlet and grey. A plaque on the door reveals that the lines are visual representations of sound-waves of the song "Carmen Ohio," the university's alma mater. 
The Framery Q unit featuring Albertone's wrap is in the 18th Avenue Library. Her design features the crisscrossing pathways of the Oval and iconic buildings and objects associated with Ohio State's community and traditions. The Framery Q can seat four people for an impromptu meeting or study session. 
 "Students and faculty members alike can use the Framery pods for both individual study and collaborative work in an acoustically sound space," Dent said. 
To see other student-designed spaces, check out the informal space in Baker Systems 160, the Big Ten Student Design Challenge winner from 2018.  A design by 2019 challenge finalists is being implemented in Smith Lab; the project will be completed during autumn semester.