Avoid Tax-Related Identity Theft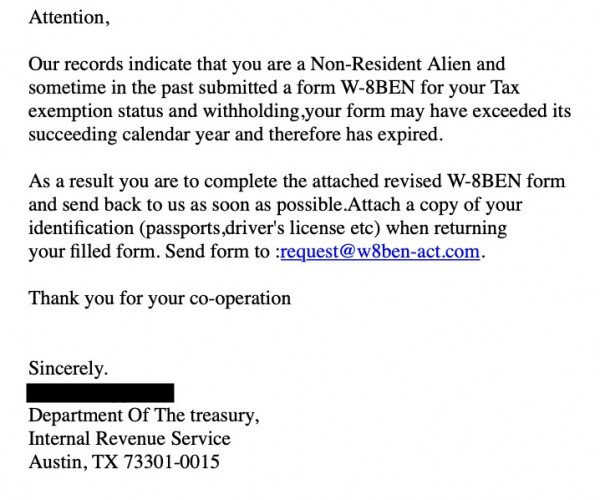 Tax day is normally April 15, but with the stress many of us have experienced over the last year, even the IRS is giving Americans a break -- by extending the filing deadline to May 17. Cybercriminals, however, will not offer us any such kindness.
Recently, several Ohio State students were targeted by an IRS impersonation phishing lure. The attacker used several triggering words like "expired," "as soon as possible," and "copy of your identification" to prompt action by potential victims.
An example of this email accompanies this article. Notice the official nature and intended target in the body of the text.
Tips to avoid becoming victims of tax-related identity theft:
Check sender addresses. The return email address wasn't the same as the employee who signed the email. In fact, the IRS typically won't contact you by email, text message or social media. They will attempt to reach you first by mail.
Download only documents found on government websites. It is good practice to visit official sites and obtain source documentation there.
File your return early, and electronically. As tax deadlines extend due to COVID-19, it may solicit a casual response to this annual task. But, filing your taxes now, and doing so electronically, will preempt cybercriminal from grabbing that return before you do.

Contact Us
If you feel that you have received a suspicious email, please forward it to report-phish@osu.edu
In addition, if you need help or have questions, contact your local IT support or the IT Service Desk for technical assistance. The IT Service Desk offers 24-hour support, seven days a week, via email and phone.

Phone: 614-688-4357
Email: servicedesk@osu.edu(link sends e-mail)
Self-Service and Chat support: ocio.osu.edu/help(link is external)
Text Telephone for the Deaf: 614-688-8743