Digital Flagship Design Lab Coming to Campus in 2021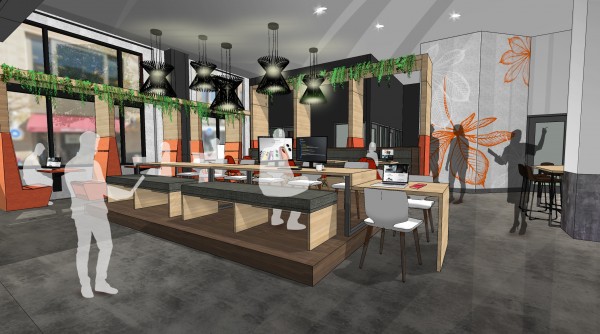 A new space for learning, collaboration and shared work will be coming to campus in 2021. Local coworking space creator COhatch, in collaboration with Digital Flagship, has begun work on a first-of-its-kind shared space within the University Gateway District that will house both the new Digital Flagship Design Lab and a coworking space for Columbus professionals.
The Digital Flagship Design Lab was conceived as a space for students to not only develop in-demand technical skills but also interpersonal skills through hands-on collaboration and networking opportunities. Students will work with industry professionals and have a chance to immerse themselves in workshops, consultations and conversations that prepare them to tackle challenges in their community while building skills that will serve them in their future careers.
"The Design Lab presents a really interesting twist on workforce development," said Cory Tressler, director of learning programs and Digital Flagship. "This new space will be a place where this community mindedness can merge with the strength of the business and intellectual power within the university and Columbus."
The Design Lab is a natural outgrowth of work the Digital Flagship program has been doing to expand access to digital skills and coding education. The Mobile Design Lab, which began travelling the state in the spring of 2019, brings technology and interactive learning experiences to Ohio State campuses, local K-12 schools and community groups. The design lab space will operate alongside the mobile lab to offer new opportunities and extended partnerships with industry professionals.
"The Digital Flagship Design Lab is a space and environment that promotes continued learning, collaboration and growth over time," said Tressler. "The physical space provides huge flexibility to offer new types of programming and connect our students with the  immensely talented professionals both at Ohio State and in the greater Ohio community."
Construction is slated to begin in the University Gateway District this year, with the space expected to open to the community in 2021.
"The space itself is going to be beautiful and I'm very excited for it to be in the University Gateway District," said Tressler. "It will be wonderful to be located within this vibrant, flourishing area. We hope to see students, staff and community members coming together and working on ideas across a range of formats."
Liv Gjestvang, Associate Vice President for Learning Technology is excited about the new opportunities this space provides.
 "The COhatch and Ohio State Design Lab shared space will be located in the heart of south campus and is an opportunity to build connections with the larger community," said Gjestvang. "We are committed to workforce development and community partnerships and this space is a wonderful way to align these goals, to connect university and high school students, entrepreneurs, and community members in shared learning and ideation. This is also a space where we will work to address equity and inclusion, targeting outreach to women and people of color, populations that are typically underrepresented in tech and coding communities."