Marching On: Alumni Return to Band Through Extended Ed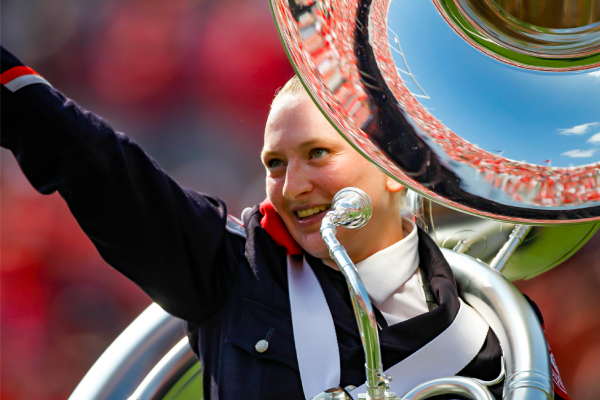 For fans of The Ohio State University, the football game against "That Team Up North" – the last of the regular season – is one of the most anticipated days of the year.
Garnering attention from hundreds of thousands of eager eyes every year, the Ohio State vs. Michigan football game is one of the longest-standing rivalries in the country. If the football team doesn't qualify for postseason games, the Michigan game typically marks the end of a journey for players and University Marching Band members who will turn their tassels before kickoff next fall.
But for marching musicians Lindsay Hostetler '17 and Anna Hurley '19, graduating from Ohio State wasn't enough to stop them from playing in The Best Damn Band in the Land. Hostetler and Hurley both returned to the field this autumn as Ohio State alumni, enrolled in MUSIC 2205.01 University Marching Band through Extended Education, Ohio State's option for adult, non-degree seeking and visiting students to take undergraduate courses.
In order to play the best, you have to be the best. That's why Ohio State's marching band is made up of more than just traditional undergraduate students. Anyone who makes the band by auditioning and is eligible to enroll in the marching band class can participate.
"Band is an academic course, so it should be available like any other academic course offered through Extended Education," said Evan Drexler, band communications manager. "We're committed to holding fair and open tryouts, so anyone good enough to make the band should be able to do so."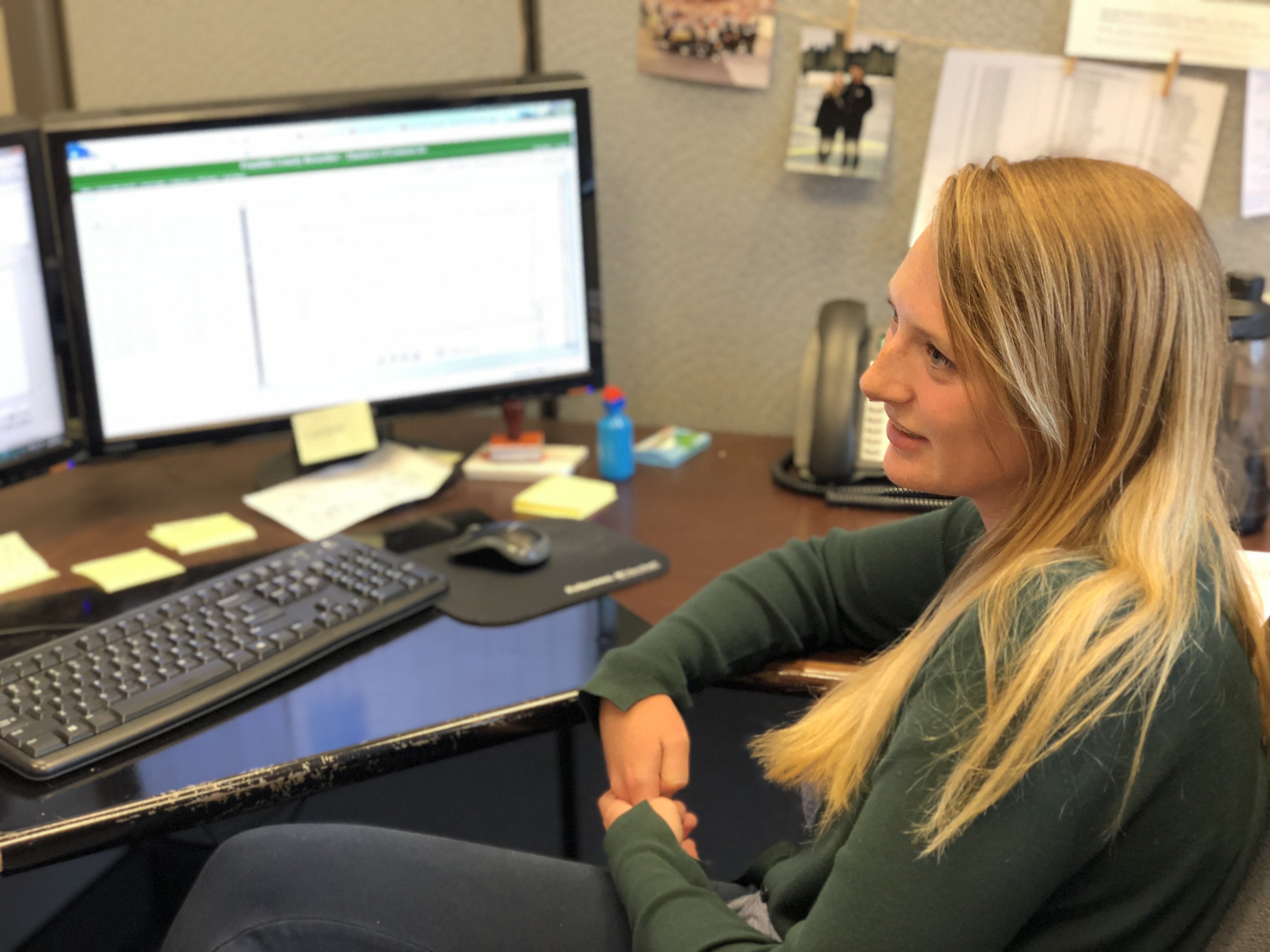 Hostetler, one of about 15 band members enrolled through Extended Education this autumn, is a sousaphone player and squad leader in the band. While her evenings are spent on the field, Hostetler's mornings are spent working at the Franklin County Engineer's Office as a map technician.
Hostetler made it into the band as a third-year student at Ohio State, and remained a member for another two years until her graduation in 2017. Despite her graduation, Hostetler had no plans to leave band behind; band policies allow members to participate for up to five years.
"I had wanted to dot the 'i,' but you have to be a fourth-year in the marching band (to do that)," said Hostetler. "And because I was not a member my first two years, I was only a third-year in the marching band when I graduated."
Learning of the opportunity to enroll through extended education from other band members, she was determined to return. After breezing through tryouts, Hostetler dotted the "i" not once, but five times — the last time alongside fellow extended education student and sousaphone player Hurley at the Ohio State vs. Miami (OH) game on September 21, 2019.
Hurley, who graduated in May 2019 with a bachelor's degree in City and Regional Planning, successfully auditioned for the marching band in 2015. She climbed the ranks to head squad leader, serving as a liaison between staff and musicians. This fall was her last year of marching band eligibility.
While many students feel the need to have a job lined up immediately after graduation, Hurley had other plans. She hopes to become a certified city planner and chose to wait to apply for full-time jobs until the end of her final season.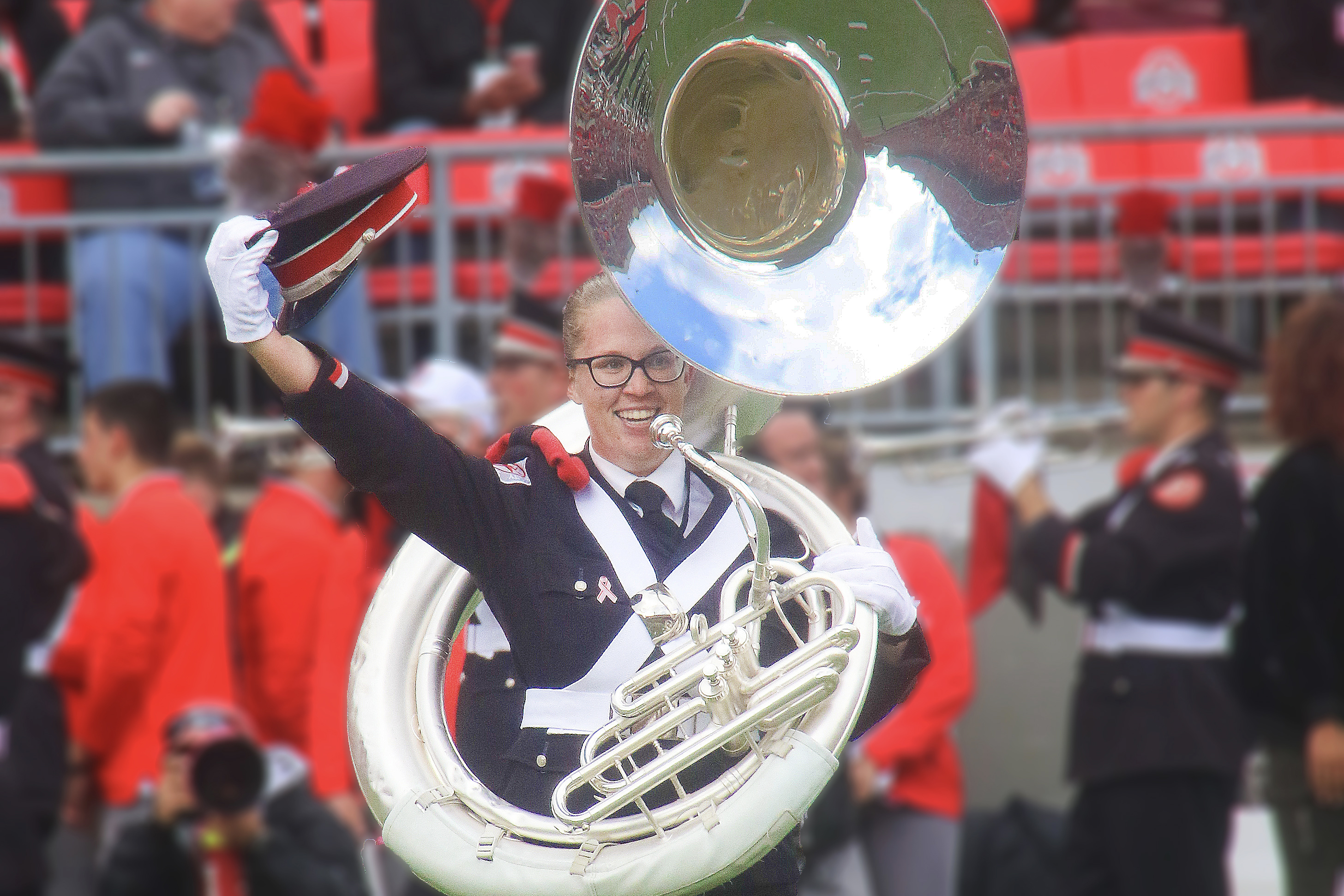 "Last season was great, and we had a ton of fun. We got to do Macy's (Thanksgiving Day Parade), the Rose Bowl, I got to dot the i, and all these awesome things, but I just didn't feel like I was ready to move on," Hurley said. 
For now, she is a part-time employee at Starbucks while enjoying her time as member of the band.
"Coming back to band has given me an opportunity to have one foot in the door of being in college still and one foot in the door of moving on," Hurley said.
Band membership requires serious commitment. Balancing a full- or part-time job with the rehearsal and performance schedule is no easy feat.
Hostetler works 7:30 a.m. to 3 p.m. and then takes the bus to Ohio Stadium for practice. After rehearsing from 4:10 to 6:15 p.m. then practicing alone until 7:30 p.m., Hostetler finally returns home to unwind and spend time with friends.
While the schedule can be tiring, Hostetler tries to look on the bright side.
"For four months, I don't have to worry about going to the gym," jokes Hosteler. "It's hard to go to the gym (during band season). You don't feel like doing anything after the physical activity of band."
Hurley's mornings are also spent at work – beginning anytime between 5:30 and 7 a.m. She spends the few hours between the end of her shift and rehearsal running errands and preparing to play.
"In a lot of ways, band is really stressful," said Hurley. "But as you get older, it can become a stress relief as you get used to how everything works logistically."
There's plenty to motivate both Hurley and Hostetler through those early mornings and long days.
"Our marching band is such a unique experience," Hurley said. "You're with 227 other marching musicians who are working towards the same goal of putting on the best performance we can every week in Ohio Stadium. And being around those kinds of people is just really refreshing."
If you are interested in joining the band or exploring other courses through Extended Education, visit extendeded.osu.edu or contact the Extended Education team at 614-292-8860 or odee-extendeded@osu.edu.