Redesign a Space on Ohio State's Columbus Campus 
Hillary Lorton
|
November 8, 2019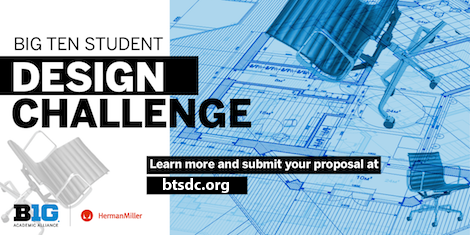 Interested in leaving your personal touch on Ohio State? Gather a team of three to four students to redesign a space on the Columbus campus. Ohio State students of all majors are invited to compete in the second-annual
Big Ten Student Design Challenge
, hosted by the Big Ten Academic Alliance in partnership with Herman Miller. Submit your design proposal by 11:59 p.m. on Tuesday, November 26, for a chance to win $2,000, network with industry professionals and see your design plans become a reality.
This competition is open to students from across the Big Ten. All participating universities have designated a campus space to redesign. This year, Ohio State students will redesign Room 1186 in Smith Laboratory, a common area for students to use between classes. The room is open for students to visit any time except for Tuesdays and Thursdays from 11:10 a.m. to 12:30 p.m. For questions about the space, please contact
Katelyn Venia
. 
The winning team from Ohio State will go head to head with other Big Ten schools. Three university teams will then be selected to travel to Herman Miller headquarters in Grand Rapids, Michigan, to refine their design proposals with the guidance of academic and industry professionals. The winning team's proposal will be built at their home university with furniture provided by Herman Miller, free of cost to the students and the school.
"We're interested to see what [students] do with the feedback and how it really helps them along their journey of coming up with a solution," says Susan Whitmer, Herman Miller Research Lead, Education. "That's what learning is about." 
This immersive experience not only exposes students to real-world design scenarios, but also allows them the potential to see their plans through to execution. Liv Gjestvang, Associate VP of Learning Technology at Ohio State, found that at the end of last year's design challenge, students were excited to see their proposals become a reality. 
"This, for them, really was the starting point," recalls Gjestvang. "They were going to build a room and see actual people in it and see how their design impacted those learners."