An Extended Stay: One Woman's 15-year Journey to Her Bachelor's Degree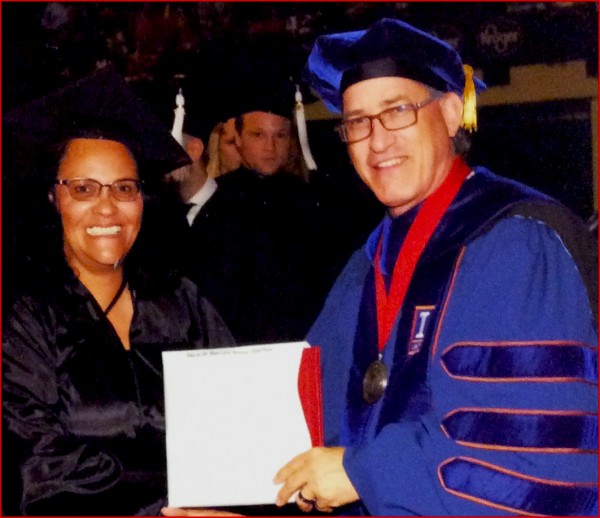 With a long list of names ahead of her, Winnie Sampson sat patiently in her cap and gown. She had waited 15 years for this moment; she could wait a little longer. As her name was announced and she walked to the front of the stage, her supervisor Dr. David Tomasko joined her, presenting her with her degree – a Bachelor of Arts in sociology with a minor in criminology.
That moment in 2018 marked Sampson's second degree, and likely not her last. Sampson, who has been a staff member at The Ohio State University for 20 years, considers herself a lifelong learner. Thanks to the university's tuition benefit for employees, Sampson started taking classes at Ohio State through extended education in 2004 and began pursuing her bachelor's degree in 2009.
Extended education, a service of the Office of Distance Education and eLearning (ODEE), enrolls adult students who want to take undergraduate courses at Ohio State but are not currently interested in earning a degree. The university's Faculty and Staff Tuition Assistance Plan pays for eligible Ohio State employees to take up to 10 credit hours per term as part of either a degree-granting program or extended education.
The path to Sampson's bachelor's degree wasn't easy. An executive assistant in the College of Engineering, Sampson faced tremendous difficulty and loss along the way, sometimes forcing her to take only one or two courses per semester or as much as a year off between classes. She credits her success to nearly 15 years of support from accommodating coworkers, caring advisors and dedicated instructors.
"If I didn't do well in a class, it wasn't going to stress me because I knew somewhere in the corners of Ohio State, somebody was going to help me get through anything that I might encounter," Sampson said.
Lengthy Conversations
Sampson earned an associate degree from Columbus State. Initially looking to work in a law firm, Sampson reluctantly met with a friend at Ohio State to talk about open positions. As the two talked, the office phone rang. Sampson's friend, who worked in human resources, answered the phone only to sit in silence as she stared back at Sampson. After a few moments, the silence was broken.
"I might have the candidate you're looking for," the friend said. "She's sitting across from me." On the other end was someone from the College of Law looking for a candidate with a legal assisting background to work in a startup law clinic. Sampson got the job.
After working at the law clinic for nearly three years, Sampson moved to an office administrator position in the College of Engineering. Though she was interested in continuing her education and knew she was eligible for the tuition benefit, Sampson kept the thought on the back burner, unable to find the right time to start. It wasn't until Tomasko, the college's associate dean for undergraduate education, urged her to continue her education at Ohio State that she finally enrolled in a degree program.
"One of the things I've always told people is that if there's one thing that Ohio State values above everything else, it's an education," said Tomasko. "Even if the program is not directly applicable to their current position, further education puts one in position to move up across the university."
In autumn 2004, Sampson enrolled in a single computer science course. From there she turned to other interests, such as Spanish and American Sign Language, continuing to take courses off and on whenever she could for the next five years.
But the turning point came when Sampson enrolled in a career development course alongside a few coworkers. Self-evaluations she took throughout the course convinced Sampson that she wanted to continue building her career at Ohio State.
"There was a lengthy conversation with someone (from extended education) regarding where I was going and what I was trying to accomplish," said Sampson. "The funny thing about that meeting that I remember is ... she took the time and the energy, and it kind of gave me the … 'go-on-and-put-your-feet-in-and-just-do-it' motivation."
Waves on the Beach
Freshly motivated, in 2009 Sampson began her pursuit of a sociology degree to complement her job and a criminology minor to complement her legal assisting background. But, like before, she would only take one or two courses per semester, and sometimes had to take up to a year off between courses.
"Life happens and I had to deal with it," Sampson said.
Working a full-time job while pursuing a bachelor's degree was time consuming. But Tomasko was well aware of Sampson's situation and did everything he could to help accommodate her.
"With the coworkers and the bosses, it would be about flex time, accommodating me with working through lunches or finding a space for me to study in before an exam," Sampson said.
Coworkers and managers frequently told Sampson "good luck" on her way out and asked, "How'd your class go?" on her way back in.
"Just having pretty much the whole office be that concerned was awesome," said Sampson. "Having supportive bosses and coworkers was a huge significance in me getting through it. And then there's the family life. When things worked out, family jumped in and let me take classes in the evening."
But heartbreak in Sampson's personal life was trying to slow her down every step of the way. Though she faced numerous difficulties and loss over the years of pursuing her degree, two instances stood out to Sampson.
With a final exam coming up, Sampson let her professor know she would be unable to take the final as she would be flying to Las Vegas to be with a dying family member. Although missing the exam would cause her to fail the course, Sampson knew family came first.
"The instructor said, 'How about, let me see if I can switch it so you can take your exam online out there.' Now I'm back into the motivation," said Sampson.
A few weeks later, Sampson flew out to Las Vegas and, on the morning of her exam, received a text from her instructor with directions. Hours later, she submitted her finished exam from a public library on the strip and walked to the hospital to see her family member.
"I knew somewhere in the corners of Ohio State, somebody was going to help me get through anything that I might encounter."  — Winnie Sampson
But like waves on a beach, once one tragedy hits, another is soon to follow. This time, it was the loss of a 14-year-old family member.
"That was the one distinctive time I was done with everything," Sampson said. "As far as taking classes, I was done. I thought, 'This (class) isn't what's important right now. This (family) is.'  And not having more moments with that child, that was about the only time I was done."
After Sampson met with her instructor to explain the reason for her absence and failing grade, the instructor not only agreed to let her drop the course but offered to help. Giving Sampson her phone number, she promised that if Sampson enrolled in the course again the following semester, she would personally work with Sampson throughout the semester. So that's exactly what Sampson did. 
"It was phenomenal people like that, the two professors and others ... that are the types of things that make you hold on and never give up," she said.
Keeping It Interesting
Finally, in summer 2018 after nearly 10 years of pursuing her degree, Sampson finally got it. And with the degree came a new title, too. Sampson was promoted from office administrator to executive assistant.
While she was excited about enjoying her open evenings, it wouldn't last. As a lifelong learner, Sampson knew she would soon be spending her evenings back in the classroom.
"I'm not done," Sampson said. "I want to get back in there and pursue a second bachelor's."
Despite the challenges she faced while earning her degree, Sampson's only regret is not starting sooner.
"My mindset was that I should be taking classes, I want to take classes but not knowing how," said Sampson. "And that's where continued education comes into the picture. Because if it weren't for the advisors and the conversations I had with them ... I'd still be in conflict 20 years later and I wouldn't have had any classes under my belt."
When asked if she had anything to say to those interested in taking courses at Ohio State, Sampson had two pieces of advice. Recalling stories from her courses over the years, her first piece of advice was simply: "Take interesting classes; interesting things will happen."
Her second piece of advice, though, was directed towards those who may be struggling to find the motivation to go back to school.
"Take after that Nike phrase 'Just Do It' because things will work out. People will work with you once you're in a routine, and finding time to take the classes will feel like a regular thing to do like getting up in the morning and going to work," Sampson said.
If you're interested in continuing your education, see what extended education at Ohio State can do for you.