Ohio State completes collection of online Global One Health courses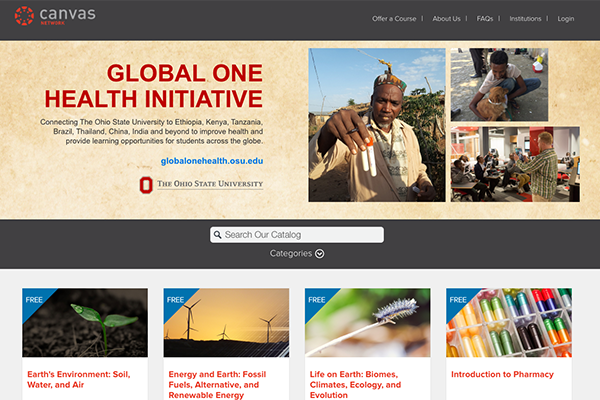 The Ohio State University has completed its first Global One Health collection of open online courses.
The collection of 15 open courses – 13 of which are currently live and accepting new students – was launched in 2017 and is offered through Canvas Network. The free, open courses cover aspects of agriculture, human biology, veterinary medicine and public health.
"We are very proud of the Global One Health collection of open courses and the broad impact they have had in many countries around the world," said Tom Evans, Ohio State's open learning manager. "One of the main joys for me has been working alongside wonderful faculty across many disciplines at Ohio State."
The collection's most popular courses include Media Writing and Editing, Fundamentals of Pharmacology, and Foundations of Evidence-Based Practice in Healthcare.
Global One Health, a multidisciplinary program established in 2009, launched the open course collection in 2017 in response to a high demand for its One Health Summer Institute, said Executive Director Wondwossen Gebreyes. The institute consists of a series of in-person trainings held each summer in Ethiopia and Kenya.
"We became clearly aware that the demand for Global One Health issues training … is so high that we cannot sustain it just by doing face-to-face training, implementation science and outreach capacity building. The demand for it is year-round," Gebreyes said. "It's really crucial to offer that type of training, so that's why we came up with the idea to partner with the Office of Distance Education and eLearning (ODEE) for open, online courses."
The Global One Health courses have already logged more than 19,000 enrollments, and feedback from students around the globe has been overwhelmingly positive. In addition, the online courses have further driven demand for One Health Summer Institute trainings and partnerships that have resulted in long-term, high-impact research projects.
"They have access to the online training, but they want to come and participate because they want a more in-depth partnership with Ohio State," Gebreyes said.
All courses in the Global One Health collection are free and open to the public. The full collection can be found online through Canvas Network at go.osu.edu/GOHcourses.