Program 60 Participant Pursues a Passion from her Past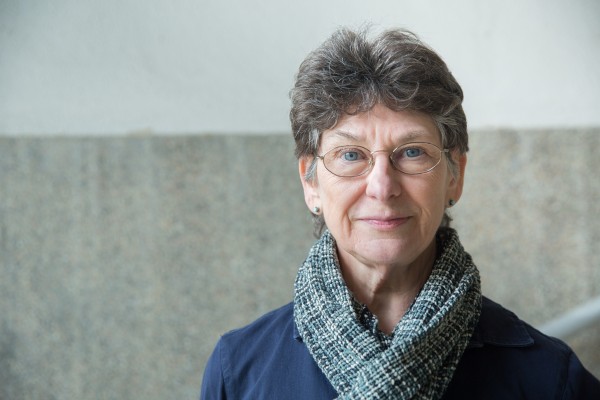 What if you had the chance to follow a dream you'd put off for more than 40 years? 
That's the situation Suzanne Minnich faced when she retired in 2015 from her long career serving children and adults with disabilities, including 27 years as executive director of the Brain Injury Association of Ohio (BIAOH). Minnich had always wanted to teach French.
Now, with the help of Ohio State's Program 60 and Give Back. Go Forward. (GBGF), she's back on the path to achieving her dream.
Program 60 allows Ohioans ages 60 and older to take Ohio State courses at no cost on a noncredit basis. That same demographic has the chance to earn a voucher good for three free undergraduate credit hours through GIVE Back. GO Forward. when volunteers complete more than 100 community service hours at a partner nonprofit.
The two programs, both of which are administered by Ohio State's Office of Distance Education and eLearning (ODEE) have helped Minnich take steps toward renewing her French teaching license, a process she hopes to finish soon.
In 1972 when she graduated from The Ohio State University with her bachelor's degree in education – specializing in French and minoring in psychology – times were tough economically and a position as a French teacher was hard, if not impossible, to get. Instead, Minnich threw herself into a fulfilling life and career teaching students with disabilities, earning a master's degree in special education, leading the nonprofit BIAOH, getting married, and raising her daughter.
"I didn't have time to pursue interests like keeping up with my French," Minnich said of those years.
After she retired, Minnich found herself with a comparatively wide-open schedule and the knowledge that Program 60 could help bring her back up to speed – and advance even farther. "I wanted to get beyond just focusing on learning French vocabulary and grammar," she said. "I wanted to feel like I could almost function as a citizen in a French-speaking country."
Minnich started with the lower-level grammar and vocabulary review courses and, by Spring 2019, was taking a French history class taught by Benjamin Hoffman, assistant professor of early modern French studies. To her, the courses seem more difficult compared to the ones she took as an Ohio State undergraduate student, but the instructors and students alike have been welcoming and helpful.
"I think to myself that I can only take one or possibly two courses at a time," Minnich said. "I think a lot about the students. They really are shouldering a lot. I'm in awe both of the quality of the education and the effort students have to put forward to succeed."
"It's sort of a privileged time of life. You've worked and you've earned your retirement. Or, as I like to say, 'J'ai gagné ma vie.'" —Suzanne Minnich
However, Minnich wasn't simply satisfied with taking noncredit courses. When Minnich learned about GIVE Back. GO Forward. (GBGF), she was already volunteering to facilitate a weekly conversation group for English learners at a Columbus-area library, one of the partners in the program.  Once she learned her volunteer hours could be utilized to earn a tuition voucher, she signed up and submitted them to the GBGF program. She used the three credits worth of tuition she earned to take a French grammar class with Senior French Lecturer Gloria Torrini-Roblin in Autumn 2018.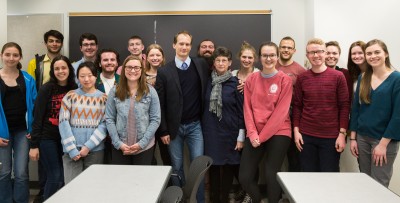 "I have a sense of accomplishment that I've come along this far, and at the same time I'm realizing it's always going to be a work in progress," Minnich said.
For the other nine credits Minnich needed to renew her license, she took three, 3-week French immersion classes through the University of Quebec in Trois-Rivières, Quebec. She does face some red tape in transferring those credits, however. "I have to go through a somewhat complicated and expensive process to see if these credits are acceptable for the Ohio Department of Education," Minnich said.
When she's not taking classes or volunteering, she spends time with the French Alliance Columbus, a club for those who enjoy French language and culture. It's been an enjoyable change of pace from those busy years when she was working.
"It's sort of a privileged time of life. You've worked and you've earned your retirement. Or, as I like to say, 'J'ai gagné ma vie,'" Minnich said. "Beyond the language, it's nice to think that I have some access, linkage and understanding of a larger world, its culture and history."
Registration for Program 60, a one-time process, is open July 16-August 16, 2019. Autumn semester course enrollment is July 30-August 30, 2019. To learn more and register, visit program60.osu.edu.
To sign up for GIVE Back. GO Forward., fill out the application at go.osu.edu/gbgf.