Free Course Offers Deep Insights into 150 Years of Ohio State History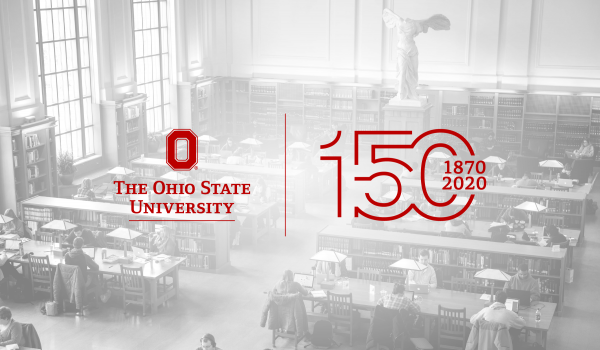 Did you know Ohio State's colors were not always scarlet and gray? 
You read that right.
The first diplomas issued by The Ohio State University were almost tied with orange and black ribbon, as students selected ribbon samples for the first commencement. When students later learned that these were already Princeton University's colors, they chose scarlet and gray as an alternative. 
If you're a history nut or even a Buckeyes superfan, there's always more to learn
The Ohio State University is inviting all of Buckeye Nation to celebrate the university's sesquicentennial with a free online course commemorating its 150-year history. 
Based on the popular History of Ohio State course, the self-paced, online course created by Ohio State's Office of Distance Education and eLearning is part of the university-wide sesquicentennial celebration.
Buckeye Biography: 150 Years of Ohio State will be available beginning August 19, 2019 through Canvas Network and is open to the public. You read that right; anyone inside or outside The Ohio State University community is welcome to enroll in this tailor-made course at no charge.
Buckeye Biography is taught by David Staley, associate professor and interim director of the Humanities Institute and director of the Center for the Humanities, and Tamar Chute, head of University Archives.
Staley and Chute walk online learners through nine modules covering topics such as Origins, The Thompson Era, Town and Gown, Research University, Global, Athletics, Student Life, 1960s and Myths and Traditions. Those taking the course will be able to learn through videos, archival documents and photographs, optional quizzes, and can even patriciate in discussions with other participants through social media prompts.
There are no requirements or restrictions for taking this course, and it will be available from August 19, 2019 through December 18, 2020. Those who finish the course will even get a digital badge to show they're a true Buckeye historian!
Don't forget to share the course online with friends, fans and family using #OSU150 and #BuckeyeBiography. 
Trouble enrolling?
Check out our step-by-step guide to enrolling in Buckeye Biography. 
Learn more
You can visit 150.osu.edu to learn more about the sesquicentennial and other fun ways to get involved and show your Buckeye pride.