Student Design Featured on 2019 Digital Flagship iPads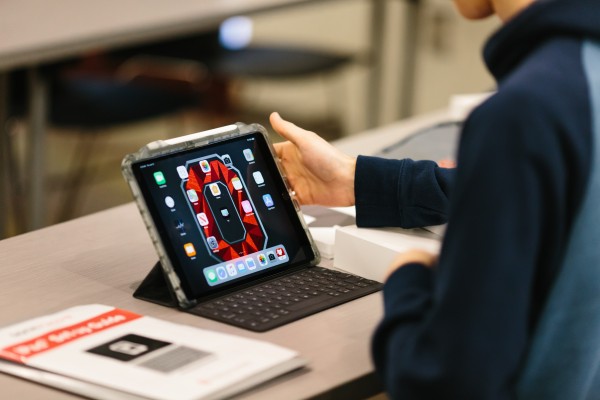 When new Buckeyes open their Digital Flagship iPads for the first time, Visual Communication Design student Anne Knellinger's wallpaper image will be there to greet them. Knellinger, who has been attending Ohio State football games with her parents since she was five, is now using her design education and lifelong Buckeye experience to help new students connect with the university from day one.  
As the winner of the 2019 Digital Flagship iPad wallpaper contest, her design was chosen from a competitive field of student designs to serve as the default background of over 13,000 new iPads coming to campus. 
 "I really wanted it to be iconic," said Knellinger. "I've grown up going to Ohio State games and with Buckeye culture, but I know there are lots of students who've never been to Ohio State before. I wanted [my design] to be something they would recognize, but also include some smaller details about Ohio State that they maybe haven't discovered before. I wanted to give them a taste of what their first Ohio State experience might be like."
The design, which features a large Block O on a dark gray background, is comprised of a series of triangles reminiscent of Oval pathways inside the letter itself. They feature text that references iconic campus spaces, traditions and values important to the Buckeye experience. 
"I hope it inspires some discovery and question asking for first-year students, maybe prompts them to look deeper into some parts of Ohio State."
Creating a Winning Design 
When she started at Ohio State in 2018, Anne Knellinger knew she was interested in getting involved with design.
"I've always really liked doing art, I did it all through high school," remarked Knellinger. "I've always really liked designing graphics. In high school, I designed t-shirts for my ultimate frisbee team, and I feel like it got me into the design mindset."
She knew from her previous experiences that it was important to understand the platform you were designing for, so she started with research.
"I looked at what made a good computer or iPad background. Bold, geometric forms were in the back of my mind," she said.
Once she started work on the wallpaper, the design courses she took in her first year at Ohio State informed her creative process and helped her make tough decisions about the final product. 
"We looked at color a lot in my first year in the major, understanding the elements and principles," said Knellinger. "I agonized over the color of the background for a few days there, but I feel like my design classes helped guide me to make that decision. At first, I was looking at a lighter background, but I ended up deciding on the darker version because app labels most commonly turn up as white on the screen. I would save it, set it as my own background, test how it would look and use that to help make the decision."
She created her final product in Procreate but often uses Notability, which is free on all Digital Flagship iPads, to do basic sketching and notetaking in her classes.
Making Ohio State Feel Like Home
While Anne Knellinger is preparing to enter her second year as an Ohio State student, she remembers the mix of excitement and anxiety she felt coming in last fall. Her advice for the new students viewing her background for the first time?
"Don't be afraid to put yourself out there right away. We're all in the same boat here, especially at the beginning. Being open to meeting new people and being out in the public spaces of the university is a good way to experience Ohio State."
Interested in swapping out your current background for one of our student designs?  View and download our 2019 and 2018 winning designs.